A lot of planning goes into creating a gluten-free menu planning, which is why many people give up on it really quickly. Most of us don't know how to prepare such meals and we don't really have the time to carry out the in-depth research required to come up with a meal plan that is healthy and meets all the dietary restrictions, while at the same time not being boring.
Now, there are meal kits available in the market that offers Gluten-free healthy plans.
Green Chef is one such meal kit providing company. The question is – is it worth it to try meals from this company? Let's find out.
Green Chef Gluten-Free Plan
Finding or creating gluten-free meals is not easy. And one of the biggest deterrents to this kind of a diet is the effort that goes into figuring out which food groups you can eat, how much you should eat and how to prepare them. Most of us get stuck at the prep stage when we run out of recipes or ideas.
Green Chef offers gluten-free certified meals under their Paleo and Keto plans, with the highest quality organic ingredients sourced from sustainable farmers and manufacturers that have already been measured and mostly prepped. All you need to do is follow the super simple instructions on how to put those ingredients together and you will be able to cook a gourmet meal in no time at all.
And if you're thinking that the meals are boring and repetitious, you couldn't be farther from the truth. The company ensures that there are new recipes on offer every week so that your diet plan becomes a pleasure rather than a pain.
Benefits of Using the Green Chef Gluten-Free Plan
Using Green Chef comes with a lot of benefits. Here are some of them:
 One of the biggest benefits of using the Green Chef gluten-free meals is that you get to eat only USDA approved organic ingredients that are very reasonably priced. In fact, it was the first in its category to be certified by the USDA as completely organic.
Green Chef is also one of the few meal-kit companies that come with a Gluten-Free certified stamp, for their Keto and Paleo plans.
Along with the freshest organic ingredients, you get delectable recipes with step-by-step, simple instructions that even a novice can follow. The ingredients are delivered fresh to your doorstep and all you need to do is follow the instructions and you will have a hot, delicious meal in no time at all!
All the ingredients in the meal kit come pre-measured and perfectly proportioned. They also come mostly prepared, so there is very little work that you need to do to get a gourmet meal at home.
Besides amazing organic ingredients and simple cooking instructions, Green Chefs offers you a variety of recipes to choose from – every single week! You get 5 new Gluten-free recipes every week in the Paleo plan and 6 in the Keto plan!
Green Chef also gives you a great deal of flexibility in how you order your meal-kits. You can skip your orders for weeks at a time, or you can cancel your order at any time you like.
Green Chef is green in every way. No genetically modified organisms (GMOs) are used in the company's ingredient list and ensures that all the produce is not just sustainable, but also traceable. Green Chef works closely with both farmers as well as manufacturers who focus on reinvesting in the environment. The company also uses packaging that is reusable, recyclable or compostable as much as possible.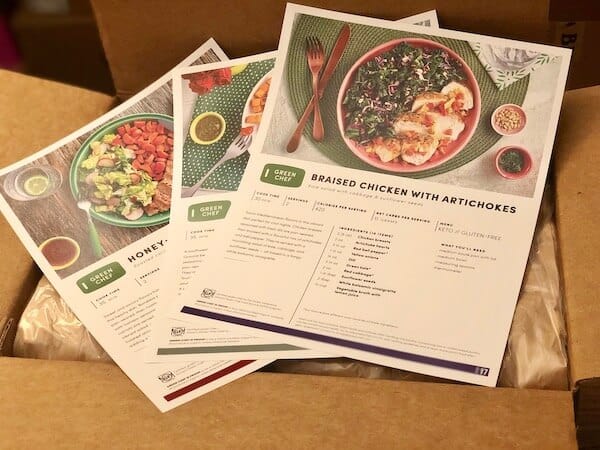 Green Chef Gluten-Free Meals
You can choose from some of the most delicious gluten-free recipes on Green Chef. Each of these dishes is made with organic seasonal ingredients and the highest quality proteins. Here are a few examples of the Green Chef Gluten-free meals:
Grilled Chicken with Herb Tahini Sauce:
Here's a gluten-free take on a popular Middle-Eastern dish. Perfectly grilled chicken drizzled with an herb tahini sauce served with a cauliflower tabbouleh made with roasted red peppers and cabbage. A delicious meal that's so good for you!
Harissa-Spiced Pork Tenderloins:
Get a taste of Morocco with this mouth-wateringly delicious meal. Pork tenderloins spiced with creamy harissa sauce, accompanied with roasted carrots, cucumber and mint salad that is drizzled with a vinaigrette.
Pineapple Teriyaki Chicken:
The perfect blend of tropical and Japanese styles, pineapple teriyaki chicken is combined with broccoli, bell pepper, and ginger stir-fry, spiced up with crunchy cashews.
Bottom Line
The sheer variety of the meals on offer will keep you coming back to Green Chef for more! Besides the fact that the ingredients are all fresh and organic, the medley of flavors in each meal will make it so easy for you to stick to your gluten-free diet plan!