We write our honest review on each product, however, we might receive a sales commission to support this website. Prices can vary due to changes in policies. See our full disclosures here.
Blue Apron is absolutely a well-known and well-rated home meal kit delivery company that brings everything you need for a good, quality, home-cooked meal right to your front door. With customizable options based on dietary needs and preferences, there are choices for everyone.
Blue Apron is great for couples or families of four with 2 to 4 meals delivered per week. Each recipe contains pre-measured and pre-cut ingredients as well as a calorie count. With other add-ons like wine programs and online shopping for kitchen tools, this meal kit option is one of the best.
That being said, there are tons of meal kit programs on the market that are just as good, if not better than Blue Apron. Before you nail down your choice, consider some of these alternatives.
#1 Hello Fresh
The name "Hello Fresh" is highly appropriate for this meal kit company because they use only quality ingredients with the freshest recipes developed by their own chef's. In fact, these recipes have all been tested 200 times over to make sure that they're flavorful yet easy to make.
The prep and cook time take just 30 minutes, yet still, incorporate a variety of styles and cooking techniques so that you can learn while you prepare your meal. Various flavors make each meal unique with options that include gluten-free, vegan, and vegetarian styles.
When you order from Hello Fresh, you can get 3 to 5 meals per week for 2 or 4 people. If you're looking for a meal kit that gives you a little extra, you can also choose add-ons like a membership to their wine club and breakfast options.
Customize your plan to receive the perfect meals for you that take just six steps. Keep in mind all the great features offered with Hello Fresh:
6-step meals with clear instructions
Educational cooking techniques
Add-ons options include wine club, breakfast, and online cookware shop
Pause or cancel your plan anytime
15 meal options per week
3 to 5 meals per week
Diet-specific options
Trusted suppliers
#2 Home Chef
Home Chef has received excellent business results in terms of customer satisfaction, which is one of the most critical factors of a successful business—especially to prospective customers. To know that others are happy with their services says a lot.
Home Chef does a great job in taking care of their customers by offering up to 26 meal options per week. This amount of variety lets people enjoy extensive meal choices instead of getting bored with the same dinners every night.
This company takes the time to get to know you and your preferences using simple online questions to build your profile. Once you've done so, they can select meals that they think you would like based on your answers.
While you can certainly stick with Home Chef's recommendations, you can also choose from their other meals.
When it comes to eating, many people have dietary restrictions centered around health or personal preference. Home Chef has options like vegetarian, gluten-free, and low-carb so everyone can enjoy their delicious meals.
You can choose from 2 to 6 meals per week, but you can also alter your menu and schedule and skip a week or delivery.
It's important to take note of Home Chef's great offers like the ones below:
Up to 26 meals per week
Personalized profile for recommendations and customized menu
2 to 6 meals per week
Various dietary options
Online cancelations and alterations
#3 Sun Basket
It can be difficult to cook meals that are both healthy and delicious consistently. That's why Sun Basket uses its resources wisely to create fantastic recipes that incorporate healthy ingredients. Not only do their chefs cook up varying and unique menu ideas, but their nutritionists evaluate these recipes to ensure they're healthy.
With simple recipes and international options, Sun Basket delivers 18 choices each week. You can pick and choose your favorite meals for the week based on recommendations selected specifically for you. Sun Basket also ensures there are plenty of choices for those with special dietary needs, like vegan, paleo, and diabetes.
With this company, you can cancel or skip weeks at any point and pick up where you left off, customizing your menu every time.
Take note of all the great things offered from Sun Basket:
2 to 4 servings from 18 meal options per week
Delicious recipes are nutritionist approved
Easy to make meals
Customizable plans
Dietary accommodations
Organic and fresh ingredients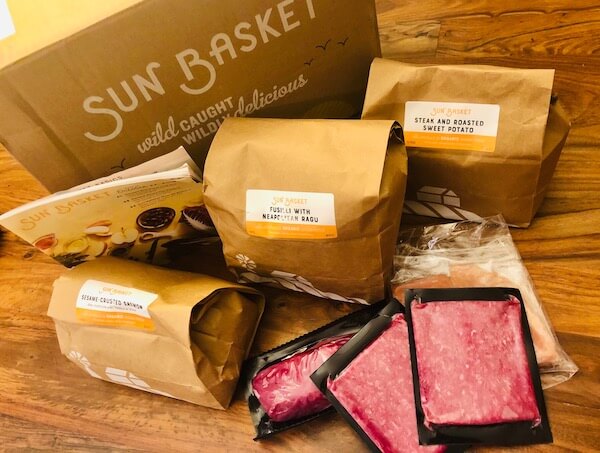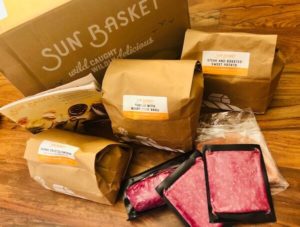 #4 Gobble
Gobble knows what it means to be a busy person. After a long, hard day, not only are you limited on time, but you're running out of steam. That's why they make it as easy a possible for you to make dinner.
Gobble delivers your meals with pre-measured, pre-portioned ingredients that are chopped, peeled, cut, and washed for you. Basically, everything is ready to go. From there, you can follow the simple, quick instructions, throwing everything in one pan to make a delicious meal in just 15 minutes.
These recipes only take one pot or pan, so while many meal kits think in terms of quick cooking, Gobble also considers your cleanup time for after your meal.
The choices of gluten-free, dairy-free, and vegetarian meals let you accommodate certain dietary restrictions as well. These options along with your personal preferences all play a part in customizing your menu.
Cancel or change your menu within the constructed time frame easily online too. Keep track of Gobble's impressive features with this concise list:
Pre-prepped ingredients come measured, chopped, and ready to go
One pan or pot meals for easy, quick cleanup
Kid options available
Healthy meals
Add-ons are available, including soups, salads, and desserts
15-minute meals
#5 Plated
Plated is a reliable, high-quality home meal kit company that showcases excellent responsibility to its customers by the products they offer. This company only uses produce and ingredients that lack hormones, antibiotics, and any other non-natural components. They are dedicated to keeping things clean and healthy with fresh, organic options.
With 20 new recipes offered per week, your options are endless. Plated lets you create your own menus using new recipes and old recipes with the ability to mix and match. This customizable menu ensures that you and your family never get bored with your dinners.
A highly convenient option, Plated offers flexible services so that they can work around your life. You get to select your delivery dates, choose your serving suggestions, and create your menus. On top of that, you have the ability to cancel your plan or skip a week at any time.
Dietary restrictions aren't a problem for Plated, as they have low-calorie, vegetarian, gluten-free, and other options. Their meals are designed to be family-friendly, so if you have kids who are picky eaters, they're sure to love Plated.
Let's sum up Plated's best features for you to take note of:
Flexible services including delivery dates and menus
Anytime changes and cancellations
20 new recipes weekly
Clean eating with fresh, organic ingredients.
Dessert option available for add-on
No hormones, antibiotics, etc.
Family-friendly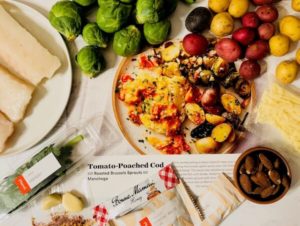 If Blue Apron isn't for you, we're certain you'll find offerings you like from one of our three alternative suggestions. Try out some new meal types and dishes that are out of your comfort zone. You may be surprised at your own palate and discover a whole new world of options!