Are you searching for the best online meal kit service? Doing so can be tricky, especially when it seems like the range of choices appear to be getting more diverse with every passing month. The key lies in determining the differences between each one as this would enable you to make an informed choice as to which online meal kit would best suit your needs.
To cope with the increasing demand, more and more meal kit delivery services have sprouted up, each boasting of numerous meal options, whether it's to customize menus and ingredients to cater to distinct needs or the ability to cancel at any given time. So whether you are into vegan, Keto, vegetarian and gluten-free just to name a few preferences or a budget-conscious consumer, there is a company out there to order a meal kit online from to suit your specific circumstance.
Today, we are here to take a closer look at the best meal kits service online. We have meticulously pored through these services, and in so doing, we have taken note of the best attributes of each service. Here are our top picks for the best meal kits online!
#1 HelloFresh online meal kit service
One of the best features of HelloFresh online meal kit service is the number of choices you have every week! With 20 recipes to choose from, there is something to eat for every crave or need. Their easy to follow recipes give different takes on best world cuisine, like the Bánh Mi Burger — which gives the famed Vietnamese sandwich a touch of American ingenuity with pickled vegetables and sriracha mayonnaise — a dish we found incredibly flavorful!
HelloFresh is also remarkably easy on the wallet and is a solid bang-for-your-buck option, all thanks to its sizable portions, reasonable prices and upfront recipes. In addition, HelloFresh also gives home cooks this "dinner to lunch" twist, which basically is a twist on tonight's dinner so that it can be served just as well for lunch the following day. How convenient is that, especially for those that really do not have much time to work their magic in the kitchen?
You can pick from HelloFresh's meals, with the options for either two or four recipes each week and two or four servings for every recipe. Their menu features customized meals for vegetarian, Family-Friendly, Low-Calorie and gourmet meals.
Here are some of our favorite meal options from Hello Fresh:
Cheesy Stuffed BBQ Pork Burgers
Pineapple Poblano Beef Tacos
Lobster Ravioli and Shrimp with Tomatoes and Tarragon Cream Sauce
Buffalo Chicken Flatbreads with Creamy Ranch Sauce
#2 Green Chef: best online meal kit service for Specific Diet needs
We are particularly high on Green Chef, mainly because of its versatility with regard to different dietary plans. It offers Keto, Paleo, and Plant-Based options as well as a Balanced Living choice that provides you with a flexible menu that features meat, seafood, and vegetarian meals.
Moreover, Green Chef uses only USDA organic ingredients for their meals, so you can be 100% sure that you are getting only the best of the best products, all super healthy and farm-fresh!
One more added bonus is that every dinner can be made in around 30 minutes, which is awesome especially for people that just came off work and are raring to chow down. Subscriptions can be made for three dinners for two or four people that are served every week, and they also have an option for a family plan, with recipes that will fit both the kids and the grown-ups it the family.
Here are some of our favorite meal options from Green Chef:
Cumin-spiced Shrimps with Roasted veggies
Cheese stuffed pork meatloaves with Sautéed veggies
Southwest fajita cheeseburgers with roasted sweet potatoes and chimichurri sauce
Mustard bavette steaks with Broccoli & potato gratin
#3 Sun Basket: Perfect online meal delivery for organic food Lovers
Sun Basket is an online meal delivery service that is devoted to making full use of organic and sustainably raised ingredients. If the message of sustainability was yet apparent, Sun Basket even packages its meals in 100% recyclable goods! 
Sun Basket offers an intense 20 meals menu, full of options to cover basically every dietary need – from vegan and vegetarian, to Mediterranean diet, Gluten-free friendly, diabetes and the list goes on and on. All of the Sun Basket's meals take a mere 30 minutes to cook and are nutritionist-approved as well.  The Sun basket meals ave very easy to cook, with cooking time, ranges from 15 minutes express meals to 30-35 minutes meals. 
You can thank chef Justine Kelly for Sun Basket. If the name does not ring a bell, then perhaps her work at Slanted Door, which has a James Beard award across its name, will. And oh, she also appeared on the much-acclaimed reality TV show, Top Chef. 
Here are some of our favorite meal options from Sun Basket:
Turkey tacos with roasted red pepper salsa and queso fresco
Sausage-broccoli frittata with a green salad and red pepper vinaigrette
Sole arrabbiata and squash ribbon salad
Masala turkey kebabs with cauliflower "rice" and cashew chutney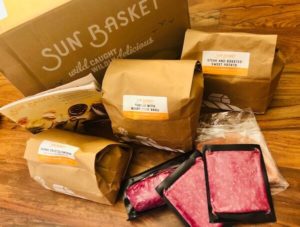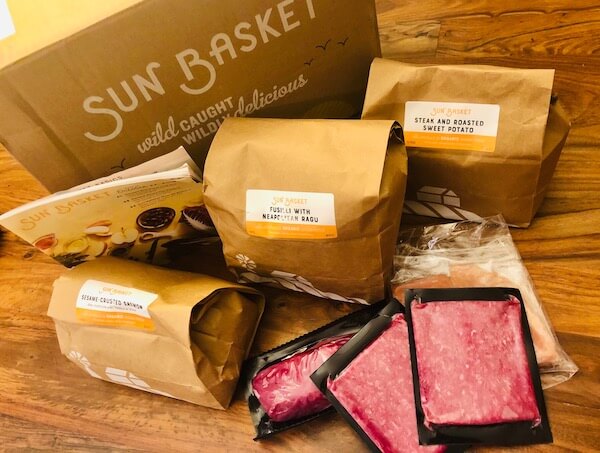 #4 Home Chef: An online Meal Kit Made for simple home cooking
The name itself already gives you an inkling of what this online meal service is all about. Basically, Home Chef gives home cooks everything that they need to easily become rulers of the kitchen. From fresh ingredients to recipes that carefully articulate each step, every element of Home Chef made us all feel that we were capable of making great home-cooked meals.
Home Chef manages to equip customers with everything they need from their choice of more than 18 meal kits each week. In addition, there is also the option of customizing the protein in most dishes, essentially doubling or changing the protein to bet match your needs.
Another distinct Home Chef feature is their new Fresh & easy plan, with easy and fast meals that are either ready to be popped into the oven or grill! These kits come with all you need to conjure the meal (yes, it even includes the cooking tray!), which means you get all of the dining fun minus all the fuss, and dinner is ready in no time!.
Here are some of the best Home Chef meals:
Sirloin Steak with Cherry Mostarda and pommes anna with broccoli
New Orleans Shrimp Roll
Cheesy Chimichurri Chicken with Corn and Potatoes
Honey Butter Pork Chop with Parmesan Biscuits and Creamed Corn and Green Beans
#5 EveryPlate: Perfect online meal kit for a tight Budget
If you are keen on enjoying more bites for your $$, then EveryPlate should satisfy you quite nicely. With each serving priced at $4.99, EveryPlate delivers hearty meals and substantial portions without ruining your budget. After all, EveryPlate venture into the culinary world was basically built on the premise of affordability.
EveryPlate manages to keep costs low by offering consumers a bit lower amount of eight flavorful meals to choose from every week, reducing packaging costs and marketing costs. But we can assure you, after trying their online meal kit service several times – the meals are savory and full of intense flavors!
Here are some of our favorite dishes from EveryPlate:
Apricot-sriracha pork chops with roasted carrots
Beef bibimbap bowl with veggies and jasmine rice 
Garlic rosemary chicken with roasted root veggies
Pork and poblano tacos
What are the Benefits of Using an Online Meal Kit Service?
Meal kit services do not just give you a chance to become master chefs (or maybe just feel like one) but it also gives you and your loved ones the opportunity to try some new dishes. And that's not all! As a matter of fact, there are plenty of benefits to trying out a meal kit service. We have listed some of the more crucial ones below.
1) Portions are Just Perfect
Let's just face it. Most times, we just don't know how many pieces of chicken should each plate be getting every time we make meals at home. It isn't surprising that Americans are notorious for overeating! However, that has all changed with the advent of meal kits as these are all pre-measured before they go out for delivery to your doorstep. The portions are also ready, with the calories and nutritional information all accounted for. So if portions are always giving you trouble, switching over to meal kits would help you greatly.
2) Reduced Food Waste
You might not notice it at first but whenever you come upon a recipe and decide to make it at home, you usually end up wasting a lot of food. For example, whenever a recipe calls for half a tomato or perhaps an onion, what happens to the other half that does not get used? Most times, they just end up getting thrown into the garbage bin. Over time, that accumulates and boy, that is a lot of wasted food.
That does not happen with meal kits as the ingredients are all carefully curated and pre-measured before they are sent to your home. This means that there is almost no waste and everything that is sent has, in one way or another, some use for the dish you want to produce.
3) You Get to Partake in Healthy Fare
It is no secret that in between all the hustle you do at work and the bustle that is waiting at home, there is just not enough time to eat a hearty meal that is both nutritious and tasty. You may harbor dreams of cooking a nice, healthy, home-cooked meal but most times, you just end up buying either food-to-go or frozen fare that you just pop into the microwave.
With meal kit delivery services, you can now have healthy meals, thanks to recipes that were produced by nutritionists and then, made by designed by master chefs to make sure that what you are getting isn't just healthy, but tasty as well.
How to Choose the Best Online Meal Kit Service for Your Needs?  
Before you get to pick an online meal kit service, it would be wise for you to first determine why you need one in the first place. We have spoken to a lot of people who are considering subscribing to a meal kit service but do not have a clear reason why. Before you commit to a meal kit service (and in life, in general, really), it is crucial that you are clear about what problem it is that you are addressing before you start looking for the answer.
As a matter of fact, this is the most important step that you want to make. Why? This is because various meal kit services have different elements that are geared to tackling specific concerns and situations.
If you want to choose the best meal kit service, you need to first determine what you want to get out of one. Your reasons may include any of the following:
more diversity in your diet
Better sports performance
Convenient or fast cooking
Adhere to a strict diet
Improved health
Why Use Our "Best Meal Kits Online" Review? 
We love meal kits and meal delivery services — so much so that we have taken it upon ourselves to take our passion and use it to help others by making sure that they get pointed to the best possible options in the meal kit market. This extensive review of the Best Meal Kits Online is proof of that, as we left no stone unturned in actually testing and trying out all kinds of meal kit services, and then, evaluating them properly to come up with the list you have before you.