These days, it's easier than ever to prepare delicious meals at home without the long lines at the grocery store, hours of prep work, and a huge mess. But, with so many different companies entering the market, it's tough to decide which meal service is the best fit for you or your family.
Today, we'll cover what you need to know about Green Chef, the benefits of the service, and our experience trying their food.
What is Green Chef?
Green Chef is a popular meal kit service that emphasizes easy to prepare meals made from healthy, organic, non-GMO ingredients.
From sourcing ingredients to prep work, to packaging, Green Chef does all the heavy lifting for you. Everything you'll need to craft each meal is delivered to your house once a week. All you'll need to do is execute the meals according to the detailed instructions they provide.
Green Chef has tons of different plans designed to fit the tastes or dietary needs of their customers. Whether you're adhering to a specific diet, such as keto, paleo, gluten-free, or vegan, or you're looking to eat healthier, Green Chef has a plan for you. Or, if you're up for whatever and all you care about is eating delicious food, they've got you covered there, too.
Each meal from Green Chef costs between $11-13 and they deliver virtually anywhere in the continental United States, except for a few parts of Louisiana.
Why People are Using Green Chef?
There's a ton of benefits associated with the Green Chef service, which has inspired people from all walks of life to give their tasty meal options a shot.
Perhaps the biggest benefit of using Green Chef (or any other meal kit service for that matter) is the time savings. Whether you're cooking for just yourself, or your family, the one constant is time. Sure, there are ways to save time on prep and cooking, but they usually mean sacrificing real ingredients and healthy preparations.
And don't get us started on the trips to the grocery store and the seemingly endless checkout lines.
Green Chef cuts the hardest and most time-consuming parts out of the process, allowing you to instead focus on the fun part: making delicious food.
Another benefit of Green Chef is their ingredients. All of the ingredients for each meal are nutritious, non-GMO and certified organic, so you can feel good about what you're preparing.
Green Chef also emphasizes sustainability, which is another feel-good benefit of the service. All of their packaging is 100% recyclable, reusable, or biodegradable, and they are committed to offsetting 100% of their carbon emissions, including those generated during shipping.
Another major benefit of the service is that they make it easy to stick to the diet your on, even if it's typically thought of as restrictive. If you thought grocery shopping was a pain in the butt in general, wait until you have to grocery shop while on a paleo or keto diet.
Finally, Green Chef can help you push your culinary boundaries while making you a better chef in the process. Regardless of the plan you choose, they constantly have new and exciting meals, often from regions and cultures, you may not be familiar with.
Our Experience with Green Chef
Based on all of the solid reviews we were seeing, it was clear we needed to give Green Chef a try, and they certainly didn't disappoint.
Everything arrived beautifully packaged, and each ingredient was clearly marked. As we mentioned, all of the ingredients are non-GMO, organic, and USDA certified, which means a lot when you're in charge of making sure your family is eating good, high-quality food.
The recipes we tried were all very healthy, but each one included a fun twist that we weren't expecting, and in most cases, they really elevated the dishes to the next level.
As for preparation, it was a snap. The products are clearly labeled, the directions are thorough, and at no point did I feel like I was in over my head.
We tried several keto and gluten-free options from Green Chef, and while every recipe we prepared was delicious, there were a few standouts.
The Thai steak salad with kale, coconut flakes, and sesame seeds, in particular, was our personal favorite. It was part sweet, part heat, part savory, and super fresh. Best of all, throwing this meal together was as easy as combining the raw ingredients, grilling up a steak, and throwing it all together with the already prepared dressing.
Dinner in 20 minutes? Sign us up!
Another standout dish was the paprika-cumin cod with roasted zucchini and kale-avocado salad. I was very intimidated by this dish at first, and the fact I'm not even a fan of cod definitely didn't help.
To our surprise, the dish came together easily, and the flavors were so well balanced and delicious that we thought for a brief second that we'd been transformed into a Michelin starred chef!
Other dishes, like the salmon with parmesan sauce, sausage, and mashed acorn squash, and steak with enchilada sauce were also very tasty, and easier to prepare than we were expecting.
The thing that stood apart with every dish we prepared was the freshness of each ingredient. From proteins to vegetables to everything in between, everything looked and tasted as if it came straight from the farm the same day we cooked it.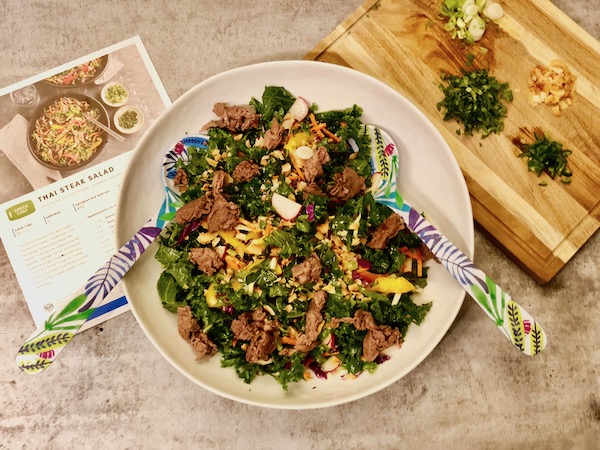 The Bottom Line
We gave Green Chef a fair shot, and we were pleasantly surprised to learn that they deliver on everything they promise.
We saved time, ate delicious meals, and felt good about the fact that we were using all organic, non-GMO, USDA approved ingredients that came in green packaging from a company that's seriously committed to sustainability and green living.
If you're looking for a subscription box to try out, especially if you're adhering to a specific diet, Green Chef is well worth taking a closer look at.