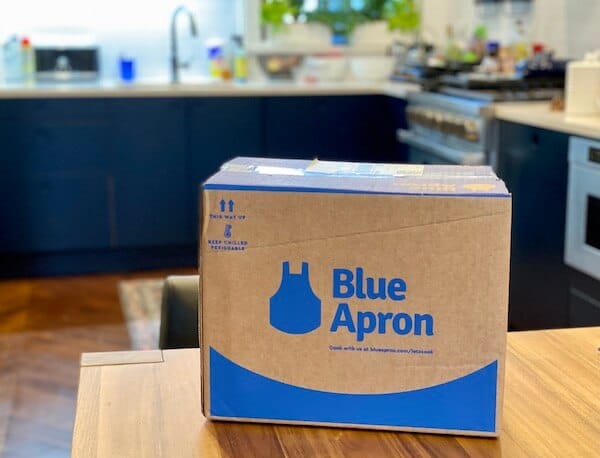 Are you looking to start the new year with your newfound resolutions? One of the best methods for maintaining a healthy weight is through a balanced meal kit plan. Meal delivery services are designed to keep your balanced eating. Also, It allows you lots of time-saving on not having to plan your meals and going grocery shopping.
All you need to figure out is what company to go with since food delivery services vary. Some of the companies you might have heard of are Blue Apron, Home Chef, Sun Basket, or Hello Fresh.
Starting in January 2021, Blue Apron offers a new wellness plan that you can try for yourself! Here is a comprehensive review of our experience and what we think about the Blue Apron Wellness 360 plan.
The Blue Apron Wellness Meal Plan for Two-Person 
Blue Apron campaigns healthier lifestyles with their Wellness 360 program. The company believes in a simple motto: "better living through better food." They promote home cooking to improve your overall physical, mental, and financial health.
The Blue Apron wellness plan is offered as a subscription for two-person, with the option to get two or three recipes per week.
How the plan works is simple:
Flexible Meal Plans: Their recipes use fresh produce and high-grade proteins. You can freely choose any meals you desire while enjoying the good-quality taste.
Expands Current Offerings: You have a wide selection of ingredients to choose from with their customizable menu. There is also the option to swap out the starch in your meal kits to make them low-carb.
Home Cooking Made Easy: Blue Apron offers minimal cleanup and limited prep time so you can enjoy your food in a matter of 30 minutes or so.
Collaborations: Weight Watchers is one of the trusted partners for this program. All the meal kits are certified to be low calorie for your consumption.
How Healthy are the Blue Apron Meals?
There are many reasons why we believe that the Blue Apron wellness plan meals are healthy:
The meals are balanced and full of fresh veggies.
Nutritionist-approved recipes, designed for holistic health and weight loss goals.
Blue Apron aims to source its meal ingredients from suppliers that meet sustainable farming practices and high-quality products with no-GMO.
The meats used by Blue Apron does not include any growth promoters, such as added hormones, sub-therapeutic antibiotics, or beta-agonists. 
The Blue Apron wellness menu includes a carb-conscious, Mediterranean diet and WW Approved options.
The Blue Apron meal kits include perfectly portioned ingredients to cut down on over-eating and food waste.
Our Experience with the Blue Apron Wellness Meal Kits
The Blue Apron ordering process is easy. All you have to do is go online and choose a specific plan, Wellness for Two. You usually get free shipping on your first order. All you have to do is sign up and enter the necessary information.
Once you subscribe and place an order, you can choose your healthy recipes or let them select the meals for you. On the day you picked for delivery, an insulated box is shipped directly to your address. The meal-kit package also includes ice packs to regulate temperature, so all the ingredients are kept fresh and safe.
With the Wellness 360 plan, you can follow recipe cards with step-by-step instructions on preparing and cooking your healthy meals. The recipe cards are included in the box as well.
We were super impressed by the quality of the ingredients. Large fresh carrots, lovely bok-choy, super green poblano pepper, and a clean portion of boneless and skinless chicken breast were just a few of the high-quality products we got.
There are three meals we tried out, from the wellness plan in particular; each has its unique taste:
Yellow Curry Lemongrass Tilapia with Brown Rice – Here is a delicate white fish fillet cooked in a light savory curry and fresh lemongrass broth. The brown rice is a great healthy whole grain compliment to the dish, alongside the crisp vegetables like carrots and bok-choy. This meal took us, and it takes about 30 minutes to cook, with elementary prep work.
Sheet Pan Cilantro Chicken with Shawarma Spiced Vegetables – This meal was a great hit! A tender lean chicken recipe that is easy to cook, clean, and with great Middle Eastern taste. And your only need a pan sheet for this particular dish. The chicken goes with a creamy sauce made of cilantro and fresh labneh cheese, alongside hearty roasted vegetables with very favorable shawarma spice. All of this was topped with tahini, diced Medjool dates, and sliced roasted almonds. The dish took 45 minutes of relatively easy cooking, and the result – WOW! like a fine-restaurant dish.
Veracruz Style Shrimp Vegetables with Lemon Farro – Here is a spicy recipe with shrimp and delicious sauce mixed with tomatoes, capers, and jalapenos. This sauce is a specialty from the historic Mexican coastal city. If you like a powerful kick in your mouth, this is an excellent option to consider. The shrimps served over a bed of special lemon farro, which deliciously soaks up all the extra sauce.
Blue Apron other recommended Wellness 360 meals you should Try:
Togarashi Chicken & Brown Rice Bowls with Roasted Squash & Miso-Sesame Dressing – Weight watchers approved, 630 calories per serving.
Sesame-Sambal Turkey Lettuce Cups with Mushrooms, Pepper & Sunflower Seeds – low carb and 490 calories per serving!
One-Pan Pork Chops & Sautéed Cabbage with Marinated Apple – WW approved, carb-smart, and only 390 calories per serving!
Couscous-Stuffed Poblano Peppers with Spinach, Raisins & Tahini Dressing – vegetarian plant-based meal, WW approved, and only 530 calories per serving.
Key Benefits of Blue Apron Healthy Recipes
You can enjoy tasty meals packed full of delicious flavors.
The meal kit delivery service is affordable, especially if you take advantage of offers.
Blue Apron only uses high-quality ingredients from fresh produce.
You can better control your food portions and calorie-count.
Weight Watchers approved low-carb and vegetarian options.
Due to the menu customizability, you can control the calories, carbs, and proteins in some meals.
There is a wide variety of meal kits, ranging from all types of culinary styles.
You can successfully divert your dinner menu right in your own home.
You can skip weeks or cancel at any time.
Do We Recommend the New Blue Apron Wellness Plan?
After trying it out – We do!
Blue Apron delivers original chef-designed recipes straight to your door with their Wellness 360 program, promoting healthy diets.
Blue Apron is an effective meal kit service that keeps you on track to your goals for those struggling to lose weight. There are WW approved meals specifically designed to make you low-cal meals. Each of these meal kits is under 600 calories or less per serving.
Every meal we tried was delicious, and with exciting flavors, so you don't have to sacrifice your joy of eating to lose weight.