Austin is commonly noted as one of the best American food cities, known for its array of Tex-Mex options. Living in Austin, Texas, provides access to many restaurants with delicious food options like breakfast tacos and smoked brisket.
But, maintaining a healthy diet with these food options can be challenging for busy families, couples, and individuals.
Many Austin meal delivery service options will provide nutritious meals to your house or office, making it convenient for eating healthy. So next time you want to pick up the phone and order takeout, consider ordering weekly meals from a meal delivery Austin company.
Below, you'll find options for the available meal and meal kit services that deliver to the Austin area, along with what makes each one unique.
What Is A Meal Delivery Service, And How Is It Differ From A Food Delivery Service?
Food Delivery Services
Food delivery services like Doordash and UberEats include any takeout you receive to your home from local restaurants. This could even be food from your favorite fast-food chain restaurants.
Typically, these food deliveries include foods that are not necessarily healthy, can have low-quality ingredients, and have overly large portions, leading to food waste or overeating.
While they may seem convenient, they're not a great option if you're trying to lose weight or enjoy a healthy meal. Not to talk about how expensive it can get when you use it daily.
Meal delivery services
On the other end, Meal delivery services offer delicious pre-made meals and meal kits designed by chefs and backed by nutritionists or dieticians. These excellent food service options ensure you're eating meals that are nutrient-dense, balanced, and not less important – tasty!
As the meals and ingredients are all pre-portioned, you can avoid grocery shopping and still be able to meal plan easily for the week.
Examples of meal delivery services include Snap Kitchen, Sunbasket, Home Chef, and the popular Hello Fresh.
Have No Time? Here Are The Best Meal Delivery Austin Services:
Here are some Austin meal prep delivery options that are also some of the best in the US. See what each has to offer, and some sample meals to help you with your decision
Sunbasket
Healthy Meals Using Organic Ingredients – Real Food That Is Easy To Make
Sunbasket, a California-based company that delivers to Austin, TX, is one of our favorite meal delivery service options because of its premium quality of organic ingredients and the vast meal options available for breakfast, lunch, dinner, and in between. Fresh produce and ingredients are shipped in each box weekly, with sustainably sourced protein options.
With each Sunbasket delivery, the meals you will receive at your door are easy to cook, simple, and mouthwatering.
Plus, they're dietitian-approved, so you'll be getting nutrient-dense meals that can even help you with losing weight.
Choose Sunbasket If You Want:
Healthy, fresh organic ingredients in every meal that are sourced from local farms
Gluten-free, Mediterranean, plant-based, high-protein, low-carb, paleo, and more diet options, to reach your nutrition goals
Options for quick 15-minute meal kits and pre-cooked microwave meals, to make your life easier
Breakfast, lunch, dinner, and snacks available to select for each box
A large variety of over 30 nutrition approved and chef-created recipes every week
Meals with balanced portion sizes and fewer artificial sweeteners
A Few Meals To Try From The Sunbasket Menu:
Burrito bowl with achiote-citrus braised pork, corn, and black beans
Roasted paprika chicken with parsnip and pear salad
Chicken and hummus flatbread "tacos" with Greek kale salad
Sloppy joes with pickled jalapeños and tangy coleslaw
Black Angus rib-eye steaks with bagna càuda, broccoli, and radishes
Blue Apron 
Elevated Meal kits and Prepared Meals For A Busy Schedule
Blue Apron provides an array of meal options ranging from quick 25 minute meals to 45-minute gourmet dinners.
Heat and eat tasteful options are also available for those with a tight schedule. These can be heated in the microwave and ready to eat in only a few minutes.
If you want to elevate your Blue Apron meals more, you can order wine from their market, selling items like pans, knives, and other kitchen necessities.
Choose Blue Apron If You Want:
The option to choose between standard meal recipes and heat and eat prepared meals
Chef-designed meals for an elevated dinner with no prior cooking skills
High-quality ingredients in inventive recipes
Options to swap or upgrade some ingredients
To Support dietary restrictions – Diabetes-friendly, pescatarian, vegetarian menu options, and more
Pre-portioned meals for less Food waste
A Few Meals To Try From The Blue Apron Menu:
Seared scallops & mushroom risotto with chocolate-pistachio truffles
Mushroom grilled cheese sandwich with pear salad
Beef enchiladas Rojas with cheddar cheese & sour cream
Spicy cavatappi & beef bolognese with parmesan & ricotta cheese
Chicken yakitori with long green beans & brown rice
Home Chef 
Great Meal Delivery Kit Service For Beginners
Home Chef began with the premise that anyone can be a home chef, so you can expect the meals to be simple, easy, and flavorful.
Each week, you can choose between 2-6 healthy recipes and portions for two, four, or six people. This makes this meal kit ideal for couples and small to mid-size families.
This delivery company provides options for fast and fresh meals that only need to be heated. Otherwise, there are grill, oven, and stove-top-friendly options so you can cook via your preferred method.
Choose Home Chef If You Want:
Low-carb, low-calorie, pescatarian options for those with special dietary requirements
Options 15-minute meal kits and heat and eat meals – for super easy meal prep
More than 30 new recipes every week, plus add-ons
Family-friendly recipes for easy weeknight dinners for the whole family
Choices for special-occasion meals
A Few Dishes To Try From The Home Chef Menu:
Sirloin steak with goat cheese butter and herbs de Provence-roasted potatoes
Mango salsa verde shrimp tacos with slaw
One-pot creamy Cajun-style sausage pasta with poblanos
Tex-Mex pork chili with cheddar tortilla dippers
Poblano chicken tacos with chipotle lime slaw
Dinnerly
Easy And DDeliciousMeals For A Bargain Price
Dinnerly meal delivery offers meal kit options at a bargain price, starting at less than $5 per serving! The company delivers to the Austin area every week, with the flexibility to choose your delivery day.
Dinnerly makes sure to use the same premium products as other meal delivery services, and they are cutting costs by creating more straightforward recipes, less packaging, and less marketing costs. 
Moreover, the recipe cards are conveniently online, cutting more costs and allowing you not to have to worry about losing them during the week.
Each week, you can choose 3-6 meals from the extensive menu offered, with meal plans for couples or families available.
There are meal options for low-carb, low-calorie, keto, vegetarian, and more nutritious meals, higher in fiber and whole foods.
Choose Dinnerly If You Want:
Delicious meals on a budget
Options for different dietary needs like vegetarian, Gluten-free-friendly, and keto-friendly meals
A wide array of meal options to choose from
Fresh vegetables and other ingredients are delivered each week
Choices for under 30-minute meal kits, for stress-free meal prep
Options for lunch, dinner, desserts, and extra protein variety packs
A Few Dishes To Try From The Dinnerly Menu:
Teriyaki beef & pepper stir-fry with rice noodles & lime
Chicken a la king over egg noodles
San Fran-style garlic noodles with shrimp & snow peas
Cheesy skillet veggie enchiladas with bell pepper & corn
Tandoori-Spiced Cauliflower with Cranberry Chutney & Rice Pilaf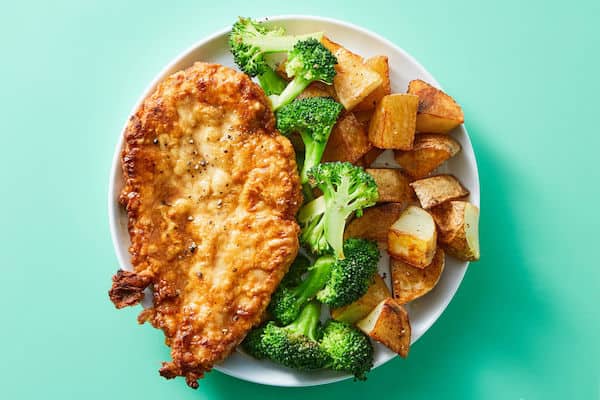 Hello Fresh
Most Popular Meal Delivery In the USA, With Meals Designed By Professional Chefs
Hello Fresh is a top meal delivery service that provides an inclusive menu full of delicious classic meals to cook at home quickly. Each meal is simply tasty, and most are ready to be eaten in under 30 minutes.
With Hello Fresh subscription, you can customize your settings to avoid meals with seafood, meat, beef, pork, and more. Additional labels under each meal on the online menu alert you to which options are spicy, easy to prep, easy cleanup, carb-smart, and more, making it easy to fit into your weekly schedule and diet.
Choose Hello Fresh If You Want:
30-minute classic meal options for busy parents and couples
Many choices of new recipes to choose from each week
Extremely convenient ability to customize your meal plan based on different food dislikes like seafood-free and dairy-free options
Kid-friendly and family-friendly meals
Options for one-pot choices and gourmet meals for special occasions
Options for carb-smart and calorie-smart meals, for easy losing weight diet
A Few Dishes To Try From The Hello Fresh Menu:
Chicken sausage spaghetti bolognese with zucchini & parmesan
Brown sugar bourbon pork chops with apple pan sauce, scallion mashed potatoes & brussels sprouts
One-pan pork & pineapple tacos with pickled veggies & lemon crema
Apricot, almond & chickpea tagine with zucchini, basmati rice & chermoula
Pub-style shepherd's pie with white cheddar & thyme mashed potatoes
Final Notes
Yes, healthy and delicious meals made with top ingredients are available in Austin to order online from several meal delivery service businesses.
Each service can get the pre-portioned meals delivered directly to your door, and some will even do the cooking part for you! that is a fantastic way to keep a healthy and balanced lifestyle without breaking your pocket on takeouts.
Whichever service you decide to subscribe to, don't forget to use the great beginner coupons we managed to get for our readers!