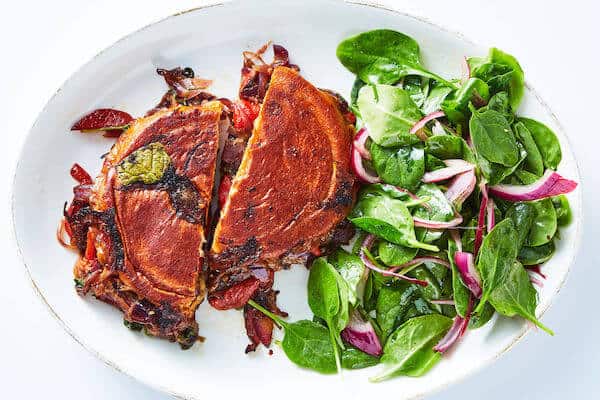 Dinnerly is a cost-effective meal subscription service in the meal kit business, with meals at less than $5 per serving! Every week, Dinnerly delivers components for three meals to either a family box or a two-person box. Dinnerly is primarily directed at clients who like homemade food with fresh and high-quality ingredients, but are struggling to save time with meal prep. 
Dinnerly offers many recipes per week, all of which are simple, easy to understand, and convenient to make in four to five steps. Meals consist of a few elements, while each recipe card appears to be digital rather than paper. 
The Dinnerly service does have a nice variety of vegetarian options every week. It engages in offering consumers a convenient delivery service at a reasonable price while maintaining convenience and comfort.
It helps to avoid shopping and grocery store trips. With shelter-in-place shutdowns, Dinnerly is more useful than ever before. At about $5 per meal, Dinnerly is your lifesaver.  Read on to learn more about the different meals and benefits.  
The Dinnerly Vegetarian Plan
The Dinnerly meal delivery subscription service provides two choices: a two-person or four-person meal plan, and they do offer a specific plan for vegetarians. Clients can allow the company to send the meals automatically or select from the 14 options that week (4-5 meals per week are vegetarian). The kits include most of the ingredients used to cook a meal. 
Switching plans, finding a recipe, missing a delivery day, and avoiding or canceling the package are all easy things you can do online and in the application. While changing to a subscription once or twice a month is not an option, you can skip deliveries up to two or three weeks ahead of time. 
Dinnerly dishes and recipes are delicious with tasty meals, such as Caprese Sandwich with Grilled Tomato & Zucchini Fries, and risotto with asparagus and cannellini green beans. However, you gain more time in the kitchen with no more than six ingredients per recipe. 
Every week, Dinnerly introduces a fresh set of 14 different dinners. Usually, there are five vegetarian choices and one fish selection. There are labels on each recipe that offer insights such as "fast" and "low-calorie." Some have a sign that specifies whether gluten or dairy is present. 
There are no surprises in the recipes. Most of them are common and familiar, mainly burgers, pasta, and lettuce cups. Most recipes can be prepared in less than 30 minutes to 40 minutes.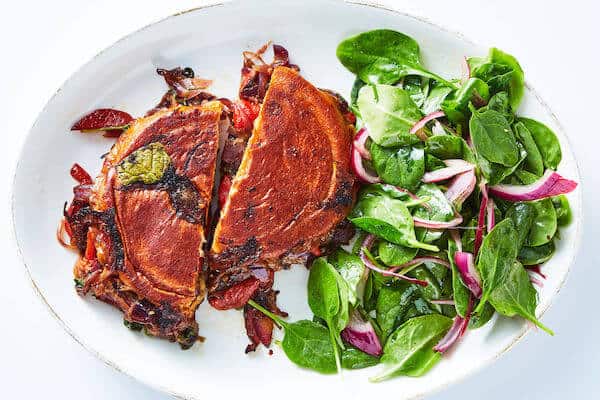 Benefits of Using Dinnerly Vegetarian Plan
Along with not exhausting you with numerous ingredients and different steps in the cooking process, Dinnerly delivered has the best value in the market at $5 per serving, which is distinctively cost-effective and sets itself in a budget-friendly category. 
The recipes are also produced with only six ingredients, mostly "low calorie," "kid-friendly," "gluten-free," and "vegetarian."  
When you receive Dinnerly vegetarian boxes, you get delicious, carefully crafted recipes that we consider appealing to home cooks looking to make more healthy meals at home. Also, it is easy to sign up for a Dinnerly box. Simply fill in your details online, and you should get it done in less than no time. 
You have to choose a total of up to six meal options for your recipes each week. Currently, Dinnerly doesn't offer breakfast or desserts. interesting and tempting vegetarian choices with superfood like sweet potatoes, Green beans, and more are available every week.
If you have any further questions after you have received Dinnerly, customer service staff is accessible by phone or through an email address. The company also maintains an extensive network on its website.
Dinnerly does its meal kit approach in an environmentally eco-friendly manner. The paper bag is recyclable, and the company makes an effort to ship in the most efficient way possible. For example, the vegetables and the green beans can be folded up, and the yogurt can be tucked into a plastic shell to keep it from getting fractured. There are also ice packs to keep everything fresh.
Dinnerly makes it much easier to eat homemade, delicious food. Simplicity lies as the keyword at the heart of Dinnerly's business model.
Dinnerly Veggie Meals Review
Brown Butter & Corn Ravioli with Basil & Parmesan
With Dinnerly, you spend a little less time cooking and more time with your family. Enjoy low-carb and kids-friendly dishes like this one, and a wide range of other meals. 
At first glance, you might believe that this dish is corny. With a delicious mix of juicy, buttery, fresh sweet grain kernels swimming in a nutty brown butter sauce, you can be more than happy with this meal. With or without the parmesan, this dish is healthy.
Delicious summery corn and toasty cooked butter stand out in this simple five-ingredient pasta, rich enough for customers and ready in minutes!
Basil and corn go like peas and carrots together, which gives this ravioli a tasty and wholesome flavor.
Vegetarian Pad Thai with Carrots & Snow Peas
Pad Thai always works beautifully, and it satisfies even the pickiest of eaters! You can't stop eating this lightly sweet and tasty meal.
This vegan-style pad Thai is filled with protein-packed eggs, peanuts, and good-for-you carrots and snow peas. 
There is nothing more refreshing than a nice bowl of vegetarian Pad Thai with crisp carrots, and salty peanuts.
Refried Bean & Cheese Taco Pinwheels with Sour Cream
These taco pinwheels are a must-try meal that you should grab during the day. They are filled with chicken, taco tomato sauce, creamy melted cheese, and refried beans, all wrapped inside the tortillas. An easy make-ahead party appetizer! 
These taco pinwheels always are a hit and are a much healthier choice than some snacks. 
Bottom Line
Dinnerly aims to attract a broader range of customers by providing foods that are affordable compared to any other food kit company. It is an excellent choice for people with a tight budget.
This meal-delivery service makes your life a little easier, especially for the vegetarian audience, since you don't have to think about what to make for dinner and worry about how much it's going to cost you.