New York City is one of the food meccas of the US and the world. At each corner, you can grab a slice of the best foods, from pizza or taco to fancy sushi.
With constant new foods being invented and brought to NYC, it can be tricky to opt for nutritious meals instead of scooping up the latest food options.
How do you avoid the food delivery service bills and unhealthy fats? You can try meal delivery service NYC options!
Each meal delivery service NYC provides – either prepared meals or meal kits – provides meals that are nutritious and delicious.
Read on for our diet delivery NYC reviews on the top meal delivery services so you can choose the one that fits best with your lifestyle.
What Is A Meal Delivery Service, And How Is It Different From Food Delivery? 
While both a prepared meal service and a food delivery may sound the same, the only commonality they have is the ability to skip the grocery store for a meal.
When you order from a meal plan delivery (in New York City), you're opting for meals that are designed by chefs, typically in conjunction with dieticians or nutritionists. These healthy prepared meals, heat and eat options, or meal kits will provide delicious food and high-quality ingredients.
The ingredients in meal delivery services are perfectly portioned, making it easy to avoid food waste. Plus, many allow you to cater to dietary restrictions. For example, there are even vegan meal delivery options from some companies.
Food delivery services like Grubhub or Seamless generally provide overly large portions and menu items that are not ideal for those trying to follow a healthy meal plan. Generally, meals received from food delivery options only stay fresh for a day or two.
On the other hand, as the ingredients are separated or portioned out for meal delivery services, they can potentially last up to a week.
Have No Time? Here Are The Best Meal Delivery Services in NYC:
If you're unsure which options to start with, try one of these meal plan New York choices. 
Below, you'll find details on what makes each company unique.
Sunbasket
Organic Ingredients And Delicious Meal Kit Options
Sunbasket is a meal kit and pre-made meal delivery service that offers sustainable protein options and local farm-sourced produce.
Most meal kits take 30 minutes or less from Sunbasket, making it an excellent option for those on a time crunch due to a busy schedule.
With various options for breakfast, lunch, and dinner, Sunbasket is one of the best meal delivery service options in NYC for seasonally charged menu items.
Choose Sunbasket If You Want:
Options for low-carb, low-calorie, pescatarian, vegan diet meals, and more
Choice of healthy ready to eat meals and meal kits
Locally and sustainably sourced ingredients
Meals in less than 30 minutes
Easy to preserve prepared meals by adding them to the freezer when made
Ability to add grass-fed beef or additional protein to deliveries
A Few Meals That Can Be Found On The Sunbasket Menu:
San Francisco scramble with turkey, spinach, and mushrooms
Lemongrass beef over "zoodles" with pickled radishes and carrots
Moroccan salmon in cheraime sauce with cauliflower "couscous"
Two-bean chili mac' n' cheese with penne
Turkey taco bowls with brown rice, black beans, and pico de gallo
Blue Apron
Restaurant Level Meals For Dinner
Blue Apron is one of the most famous and popular meal delivery services in the US. The company offers delicious, high-quality meals with a real restaurant vibe – that you can cook in your home.
Meal kit recipes range from quick 25-minute meals to about an hour and a half for premium meals. There are also heat and eat meals for those who don't have spare time to prep and create a meal yet still want a restaurant-quality dinner.
Blue Apron has options for diabetes-friendly, vegetarian, and health-conscious meals. This fresh meal delivery service is an excellent option for singles, couples, and to upgrade to a family plan.
Opt for microwave-friendly meals or a rotation of meal kits and recipes each week.
Choose Blue Apron If You Want:
Chef-designed meals for an elevated dining experience at home
Ability to choose single portion prepared meals or hearty meals for families
Option for vegetarian, low-carb, and WW-friendly meals
Ease of changing meal plan weekly
An online market for kitchen tools and wine pairings
Seasonal and farm-fresh high-quality ingredients
A Few Meals That Can Be Found On The Blue Apron Menu:
Smoked gouda juicy lucy burgers with marinated cucumbers & creamy mustard
Chimichurri shrimps with barley, pepper & tomatoes
Garlic & herb pasture-raised chicken with pancetta potatoes & green bean salad
One-pan pork chops with braised cabbage & apple
Home Chef 
Easy Home-Style Meals With Fresh Ingredients
Home Chef believes in uniting people over healthy, simple meals. This ideal makes cooking each meal kit the perfect way to spend time with family.
You will find fresh ingredients and meal plans that can cater to 2-6 people in each delivery. Home Chef provides home-style favorites with a twist, for never boring options that even the pickiest eaters will love.
Vegetarian, low-carb, and pescatarian options are available for those with specific dietary requirements.
Choose Home Chef If You Want:
A large number of easy, family-friendly recipes to choose from
Grill-ready, stovetop only, oven-ready, and one-pot options each week
The choice of no-prep meals, heat and eat options, and quick 15-minute recipes
Pescatarian, vegetarian, low-calorie, and low-carb choices for dietary needs
Fresh vegetables, herbs, and other high-quality ingredients in each delivery
The option to customize the proteins in your meals
A Few Meals That Can Be Found On The Home Chef Menu:
Blackened mahi-mahi and lemon dill cream with parmesan potato pressé and asparagus
Spicy chicken parmesan with crispy zucchini
Mushroom Rigatoni with goat cheese cream sauce and cheesy garlic bread
One-pan beef shepherd's pie with parmesan
Sesame sweet potatoes and avocado with sugar snap peas and jasmine rice
Freshly
Gluten-Free Prepared Meals For Easy Meal Prep
Freshly is a great meal plan option for those who are short on time and need gluten-free menu items regularly.
There are over 30 recipes to choose from each week. You can also order 4-12 meals in each delivery, making staying on track with healthy eating easy and convenient.
Each meal is chef-curated and cooked, so you can rest assured that every dish you eat will be tasty and healthy.
Choose Freshly Meal Delivery If You Want:
Over 30 prepared meals weekly
Delicious meal options that are chef-designed and approved by dieticians
Nutritious, gluten-free menu items without preservatives
Never frozen meals delivered each week
Meal options for vegetarian, keto, dairy-free, and pescatarian dishes
A Few Healthy Meals That Can Be Found On The Freshly Menu:
Steak peppercorn with sautéed carrots & French green beans
Home-style chicken with masterful mac & cheese
Cauliflower shell beef bolognese with nonna's soffritto & Italian cheeses
Sausage baked penne with sautéed zucchini & spinach
Super-Grain bowls with pulled pork  and red peppers
Dinnerly
Large Selection Of Affordable Meal Kits
Dinnerly provides "fuss-free" meal kit selections at more affordable rates than most other meal delivery companies.
These convenient meals are made with the same quality ingredients as other meal companies. Dinnerly can provide lower prices due to more straightforward recipes with fewer ingredients and digital recipe cards.
This meal-delivery service is perfect for individuals, couples, and small families who want tasty home-cooked meals.
Choose Dinnerly If You Want:
Affordable meal kit options with many choices
Ability to choose vegetarian, pescatarian, dairy-free, and other options for specific dietary needs
Option to include simple desserts in each delivery
No-prep, under 30 minutes, and one-pan home-cooked meal recipes
Convenient, simple, easy to cook dishes for any skill level
Less food waste
A Few Meals That Can Be Found On The Dinnerly Menu:
San Fran-style garlic noodles with shrimp & snow peas
Seared steak & ranch butter with BBQ-spiced potatoes
Honey-chipotle fried chicken tacos with slaw
Easy peas-y tortelloni alfredo with melted parmesan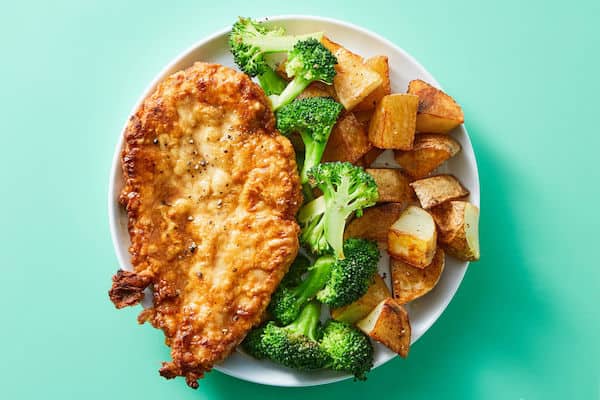 Hello Fresh
Easy, Home-Cooked Favorites
HelloFresh is a top choice for those who want home-cooked meals but don't have an hour or more to cook. The majority of the available recipes only take 30 minutes, making it easy to fit cooking into busy lifestyles.
You can choose between a classic plan (for two people), a family plan (4 people), or a vegetarian meal plan. Beyond these categories, meal options are conveniently labeled with low-carb and low-calorie markers.
HelloFresh has meals for all tastes, including kid-friendly recipes and spicy options.
Choose Hello Fresh If You Want:
Convenient, easy recipes with pre-portioned ingredients
Options for those with dietary requirements, including carb conscious individuals and vegetarians
25 meals to choose from weekly
Gourmet, hall of fame, and easy meal options
Level 1, 2, or 3 recipes for home chefs of all skill levels
A Few Meals That Can Be Found On The Hello Fresh Menu:
Italian chicken over lemony spaghetti with zucchini & chili flakes
Pork sausage rigatoni rosa with Philadelphia cream cheese, zucchini & parm
Sunday dinner pork chops & gravy with braised bell pepper & collard greens
Warm buttered shrimp rolls with creamy lemon slaw & seasoned potato wedges
Seared sirloin steak with roasted garlic herb butter and chive mashed potatoes
Final Notes For This Review
Eating healthy in New York City has never been so easy – especially with the many meal services NYC options. Whether you need meals ready in five minutes or want to hone your cooking skills, one of the above options can provide you with the necessary ingredients for a healthy food diet without sacrificing flavor.