Sun Basket is a meal delivery service that attempts to source organic products with every order. The company offers 11 different meal plans, each one of which makes it easy to adhere to a pre-determined diet. For instance, customers can choose from options such:
This guide will focus on one Sun Basket's Vegetarian Plan. If you're in search of meatless meals that use organic, sustainable vegetables, then you'll want to look into this option. Each week, customers have five options from which they can choose. Customers can also add additional products, such as snacks and salads. Interested in learning more? Below, you'll find a brief breakdown of the Vegetarian Plan. 
The Sun Basket Vegetarian Plan
Sun Basket recruited an award-winning chef, Justine Kelly, to design the meals available as part of the Vegetarian Plan. The company's website indicates that customers can prepare meals in roughly 30 minutes. The recipes come with directions that are easy to follow.
The meal kit also comes with pre-measured ingredients, which the company says helps reduce waste and simplifies cleanup.
When ordering the Vegetarian Plan, customers can choose from either the Classic Menu or Family Menu. The Classic Menu allows you to choose three recipes per week. You can then alter the size of your order, changing between two or four people. The company says that the meals are "balanced dinners full or organic veggies."
The dairy and eggs in these meals are responsibly-sourced and organic. 
If you need to order meals for four people, you may want to check out the Family Menu. Here, the meals are designed explicitly to feed four people. Customers can choose to receive the number of meals they receive, ranging from two to four.
Sun Basket only offers its Chef's Choice and Vegetarian Plans on its Family Menu. The company says that Vegetarian Plan meals have two ingredients, ideal for quick preparation.
Customers can choose a delivery time that best fits their schedule so that meals do not sit on your front porch unattended. Shipments for the Vegetarian plan are available Monday through Thursday, 8 am – 9 pm. 
Sun Basket will ship to most zip codes in the United States, excluding:
Alaska
Hawaii
Parts of North Dakota, Montana, and New Mexico
Benefits of Using the Sun Basket Vegetarian Plan
Sun Basket hired an in-house dietitian to help ensure that their Vegetarian Plan complies with the latest dietary guidelines set forth by the United States Department of Agriculture.
Meals in the vegetarian program range from 550 to 800 calories. Customers will find little processed food or added sugar in their order. The Vegetarian Plan provides meals with:
Nutrient-dense produce
High-quality protein
Good fats
Whole grains
The Vegetarian Plan does not contain any meat, which allows customers to reduce their environmental footprint. The production of meat is one of the leading causes of greenhouse gas emissions. It also depletes the world's water supply.
Customers still receive protein in their meals, however. Sun Basket guarantees at least 20 grams of protein per serving in each Vegetarian Plan meal.
Sun Basket says that their service could also be useful for those looking to transition into a vegetarian diet. The company believes in a concept called "Reductionism," which calls for consuming fewer animal products when possible.
They recommend starting with one or two vegetarian meals a week and gradually growing into your new healthy lifestyle.
Our Experience with the Sun Chef Vegetarian Plan
When we ordered a Sun Basket Vegetarian Plan, there were five menu items from which we could choose. There were also four salad options and seven snack options. We took the time to review one product from each category.
Spicy Baracoa Tofu Burgers
Sun Basket's Spicy Barbacoa Tofu Burgers with Chipotle Cauliflower and Guacamole was the first dinner we had under the Vegetarian Plan. The site warned us when ordering that this meal was spicy. They also listed it as "Super Speedy," indicating that we could prepare the dish in as little as ten minutes, which we found accurate. The meal came with two servings, each with 680 calories and 37 grams of protein.
Our order included fresh ingredients like cauliflower and lime. The guacamole and barbacoa glaze were both pre-made, which we appreciated, as it sped up the preparation process. The company listed which ingredients were in these products when ordering.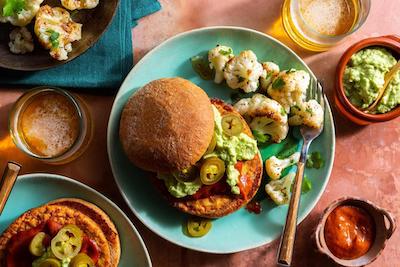 Organic Protein Crunch Salad
We found the Organic Protein Crunch Salad to be an excellent lunch option. The salad served two, although each serving contained 770 calories. One of the things that we liked most about this salad was that we could prepare it in as little as five minutes.
We threw our salad together in the morning before going to work, and it remained fresh through lunch time. Ingredients included:
Puffed Quinoa
Kale
Walnuts
Dried blueberries
Greek Feta Dip
Sun Basket's Greek Feta Dip helped conquer our mid-day cravings. The dip blended rich feta cheese for a creamy substance that provided a mere 70 calories per serving. The company recommended that we consume the product within five days of receipt, although we found that we had no problem doing so. Other ingredients included extra virgin olive oil and Greek yogurt.
Bottom Line
If having food that is organic and sustainable is essential, you'll be satisfied with the Vegetarian Plan from Sun Basket. We appreciated the numerous menu offerings and the fact that we could prepare meals in a matter of minutes.