The Keto diet comes with many undeniable advantages. Not only does it aid weight loss, but it is one of the best ways to specifically target belly fat, notorious for being the last to remove. Plus, it is excellent for your blood sugar, keeps your metabolism firing, and may even improve brain and gut health. What's not to love?
The answer is simple. Eating keto means giving up most of the carbohydrates in your diet. Your palate may suffer, especially at first, but the benefits are well worth it. You may have already decided to switch, but have no idea what you should eat instead.
You will need to do a lot of research. However, what we offer today will delight both the newbies and the veterans of the Keto lifestyle. The Sun Basket's low carb plan will make this transition much more straightforward, and your taste buds won't be complaining either!
Read our full Sun Basket review here
Benefits of Using Sun Basket Keto Low Carb Plan
You may have never been good at cooking, or you're only good with pastries. Well, this service is here to provide you with only the necessary ingredients for your next meal. With the Sun Basket Keto friendly plan, you will never feel lost in the kitchen again.
The advantages of this subscription-based Sun Basket service that makes your life easier are many, but we summed it up for you here so you would know exactly what to expect if you decide to give it a shot.
IT IS NEVER BORING
While eating a low carb diet, you may feel that there are not a lot of options. However, the creator of this service works with her expert team to provide you with 6-9 different carb-conscious recipes every week. Besides working on cookbooks and with restaurants, she is also a mother, making her aware of the importance of not being bored with your diet.
This plan will keep your taste buds satisfied while keeping your goals in check, with 25-35g net carbs or fewer and at least 25g of protein per serving.
HIGH-QUALITY INGREDIENTS
Following this kind of nutrition plan can be expensive, so you might find yourself turning to lower-quality meat to save a few dollars. Well, not anymore. This company cooperates with local farmers and fishers to bring you the best ingredients of the season. Not only will you be at peace knowing you're treating your body correctly, but it will also taste better!
YOU WILL BE MORE ENVIRONMENTALLY FRIENDLY
It is the age of eco-consciousness, and all the manufacturers Sun Basket works with grow sustainable, organic products. They also care about recycling and not creating food waste. Their effort places them at the top of the game with the best service and with the least harm.
Examples of Sun Basket Keto Friendly and Low Carb Meals
It is important to note that, besides being organic, they offer meal plans for a wide range of alternative nutrition types. However, our focus today is one of the most challenging diets to maintain over a long time.
We decided to give a couple of their dishes a try so we could confirm the quality of the Sun Basket carb-conscious plan. Naturally, we placed an order and got packages of fresh-looking food.
Too eager to wait, we gave it a shot right away, but we can't ignore the fact that they offer storage instructions for those buying in bulk. Everything written on the packages was informative and effortless to understand.
CHICKEN BREASTS WITH WHITE BEANS AND GREEN SALSA
Chicken is a staple food for Keto eaters, but this dish is far from the standard grilled breast. The salsa is fresh and packed with herbs, and brings a delightful mixture of tastes onto your plate, with below 30g of carbs per serving.
It comes with no dairy, no added sugars, and the best part is that you can prepare it in just half an hour! Their instructions are foolproof. You mix up the salsa, fry the chicken and then (in the same pan) prepare white beans with tomatoes.
Put it on a plate, pour over the salsa, and there you have it. A fresh, delicious recipe that will leave both your stomach and your palate satisfied.
SPICY SAUSAGES WITH CAULI AND TAHINI
This simple dinner dish doubles as a quick lunch. The mixture of meat, spices, cauliflower, and tahini will give you a hearty meal you can enjoy throughout the year.
The cauliflower will be cut into 'steaks' and fried that way, giving it a crust outside while keeping it soft inside. Then, cook the mild and fresh pork sausages with the remaining flowers until they are golden. Finally, make a sauce out of walnuts and tahini. The sauce will give your dish a creamy finish.
Toss it all on a plate, pour the sauce over it and enjoy. This dish tastes more like comfort food than a lean, Keto meal.
LAMB SALAD WITH CUCUMBER YOGURT
In the hot summer months ahead, you will want to keep your food light while pumping up the protein. This meal is a perfect combination of fresh sauce and filling lamb to keep your energy levels up. Plus, it has just 16g of carbs, so no matter how strict you are, you'll be able to enjoy it.
The organic ground lamb is mixed with spices and transformed into patties, which you fry until they are golden.
While that's cooking, you will make cucumber yogurt and a salad with a sweet apple vinaigrette. These on their own would make a delicious snack and a vitamin kick; mixed with the lamb, you get a full meal.
By now, your lamb should be ready. All you need to do now is place it on a plate and relish in the taste. We recommend cooling your yogurt and salad to emphasize the contrast between light and heavy.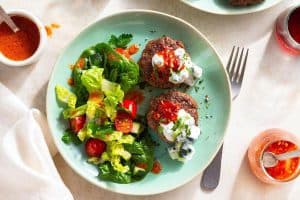 Bottom Line
This Sun Basket keto friendly low carb plan goes to show that cutting out food groups does not have to imply you will suffer from a lack in flavors. To make this service even more attractive, Sun Basket also makes sure to use organic ingredients for all their meals and makes extra efforts to keep their service as eco-friendly as possible, using recyclable packaging.
Again, whether you're new or an expert to the Keto community, you can take advantage of the Sun Basket Keto friendly service and enjoy natural and healthy meals at home.