We write our honest review on each product, however, we might receive a sales commission to support this website. Prices can vary due to changes in policies. See our full disclosures here.
Planning your meals for the week can be a challenge; this is especially hard when you're trying to follow a lean diet.
Luckily, meal kit services like Sun Basket have made this a much simpler process. But is Sun Basket Lean and Clean worth it?
We wanted to take a closer look and see if this service lived up to its impeccable reputation. Sun Basket sources all the ingredients in the meal delivery plan themselves. This ensures that every recipe is not only easy and healthy but is delicious and made from only clean ingredients. 
Sun Basket Lean and Clean Plan
Sun Basket lean and clean can help you stick to your weight loss plan with its easy to follow lean and clean options. Each delicious recipe is jam-packed with rich nutrients and will set you back a mere 550 calories per serving. 
Each meal has been designed by a nutritionist to make sure you are getting a balanced meal. Sun Basket has gained certification as an organic handler, and each ingredient is guaranteed 100% organically sourced. 
All meat is hormone and antibiotic free, and with organic eggs used in the recipes, you can rest assured that you are getting the best available products on the market in your meal plan. The seafood in the fish recipes is wild caught, ensuring that you are not part of the farmed fish industry, and so helping the planet. 
With this in mind, you can be assured that the fish and meat are lean and clean, and the best you can get delivered to your door. With no soy, dairy, or gluten in the Sun Basket meals, you are not only sticking to a low-calorie plan but staying away from any food categories that might jeopardize the Sun Wasket weight watcher's goals. 
Benefits of Using Sun Basket Lean and Clean Plan
ORGANICALLY SOURCED 
Each meal is organically sourced, and you will find the meal plans incredibly budget-friendly, especially considering the quality therein. It is apparent that they have spent time and effort in researching how and where to source ingredients. 
CHOICE AND CHALLENGE 
Each meal is not only delicious and worthy of a gourmet restaurant meal but also easy to prepare. You will find that the choice changes every week and with 4-5 new lean and clean recipes being updated every week you won't be bored by the menu. The executive chef takes time to make sure that every meal you get is not only exciting and new but also comfortable and fun to make. 
ETHICAL MEAL PLANS 
Sun Basket is committed to limiting its impact on the environment. All the packaging used is recyclable as well as compostable. All the farmers that supply Sun Basket use crop rotation and are pioneers in water efficiency and the ranches used to treat animals with respect. You might expect this to make Sun Basket inflexible as the commitments are high, but the opposite is true, with real flexibility in your meal plans allowing you to change meal numbers, skip or cancel whenever you decide.
Examples of Sun Basket Lean and Clean Meals
PULLED PORK TARTINES WITH WHITE BEAN SPREAD AND ARUGULA 
Coming in at just 540 calories this meal defies its ingredients. This dish takes between 35 to 45 minutes to prepare, and the real joy in receiving the meal plan is also the top tips on the card on how to get your children involved in making the meal as well. 
You will find that the ingredients are ready to use with minimal time to prep. You will find that the meal plan is more than sufficient for two people, though you might find it hard to share.
THAI GREEN CURRY WITH COD, SPINACH, AND CAULIFLOWER RICE
This meal ticks so many nutrition benefits, including also gluten free and dairy free. The recipe adheres to the paleo principles and is also soy free and low in carbs. This is your go-to meal if you have guests and need an impressive yet easy to make a meal that anyone can have. 
Available for two servings but also can be ordered for 4, it is easy to make and is super low calorie at 330 per serving. This recipe may be simple, but it packs some serious punch, but there is always the option of leaving out the spicier of the ingredients. 
LETTUCE WRAPPED TURKEY BURGERS WITH TARRAGON MAYO
With paleo mayonnaise as part of the delivered ingredients Sun Basket's unique burger blend of fresh spices, this is an absolute gem of a low carb and paleo and low calorie lean and clean summer meal, perfect for BBQs. With Handy chef tips added to the menu card so that you can amaze your friends with professional knowledge, you're cheffing, eating, and learning.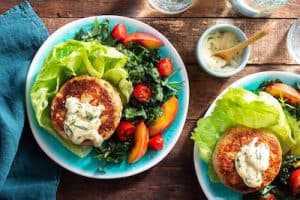 Bottom Line 
Sun Basket has taken not only their commitment to the environment seriously but also their love of food. Each lean and clean meal is packed with organic products and great taste! The Sun Basket meal recipe comes with easy to follow cooking instructions and handy chef tips. It also includes information on different ingredients that might be unfamiliar. 
To sum it up, if you wish to focus on eating lean meals without feeling you are giving up on good indulging food – the Sun Basket lean and clean plan it just what you need!