Short Introduction To Home Chef and Gobble:
Home Chef is one of the more established meal kit delivery services. The company is focused on providing meals that can be quickly cooked and enjoyed at home.
Home Chef has a lovely company philosophy that states they want to bring people together around the dinner table in the easiest way possible. The Home Chef meals are reassuringly classic but often involve a surprising and delicious modern twist!
Home Chef is also passionate about the quality of ingredients used in their meal kits, and they have partnered with a network of trusted suppliers across the country. 
Gobble is one of the new companies in the industry, and it is focused on providing its customers with quick and easy meal kit solutions. If Gobble had a middle name, it would be convenient!
Gobble makes the significant promise that all of their meals can be on the table, ready to eat within 15 minutes, with hardly any prep work! To achieve this, they deliver meal kits with ingredients that have been fully prepared and, in some instances, even pre-cooked. 
Home Chef and Gobble Available Meal Plans:
The Home Chef subscription is super simple, with one very flexible plan available to its customers. The minimum order is two dishes a week, and there are no maximum limitations to your weekly order. You have the option to choose servings for two, four, or six people for every meal you select. 
Home Chef meal service also offers a dedicated 'Fresh & Easy' plan that gives a great fight to the gobble easy prep promise! This meal plan hosts various fast 15 minutes dinner kits, oven-ready, and grill-ready menu choices per week.
Gobble has three dinner meal plans to choose from as well as a lunch box plan. 
2-person dinner plan: six meals per week – 3 dishes for 2 people.
4-person dinner plan: 12 meals per week – 3 dishes for 4 people.
Lean & Clean meal plan – meals under 600 calories per serving, featuring lean proteins and healthy fats.
Gobble used to offer a dedicated lunch box plan, which is no longer available.
Home Chef and Gobble Delivery Area
Home Chef delivers to most of the US, with 98% of the country covered. If you want to double-check if your address is eligible for delivery, then enter your zip code via their website, and they will advise. 
Being relatively new, Gobble currently delivers to many states throughout the continental US, and they are working hard on expanding their delivery areas. Just check on their website to where they currently deliver and if your address is eligible. 
Up To 18 Free Meals - 50% OFF Your First 4 Boxes
Home Chef And Gobble Menu Variety:
Home Chef has an astounding number of 20 meals per week included on their menu. This weekly menu consists of a few vegetarian meals, 5-minute no-cook salad meal options, express 15-minute meal kits, oven-ready meals, low carb, and low-calorie meals. As Home Chef has no fixed plans, you have the option of choosing as many of the weekly dishes as you need.  
Another menu feature offered by Home Chef is a "customize it" option, allowing you to upgrade, change or double the amount of protein in your meals.
Moreover, the company offers excellent protein packs (meats, seafood, or both), bread, and desserts to add to your box to cover more meals throughout your week.
The Gobble weekly menu includes ten dishes a week, which are divided into four different categories. These categories are based on the protein source of each meal and are 'From the Range', 'From the Ranch', 'From the Sea', and 'From the Earth'. 
With Gobble, you can choose meals from all four categories, regardless of what plan you are on. 
Home Chef and Gobble Style of Meal Options
At the Meal Kit Comparison, our team tastes various dishes from every company that we review. We are delighted to report that we enjoyed our experiences with both Home Chef and Gobble. 
The Home Chef meals are all about classic home cooking, including many well-known comfort-food dishes on the menu. Their recipes have been modernized with Home Chef twists so that customers can be introduced to different flavor combinations and variations of famous and lovable meals.
The Home Chef recipes per week are relatively easy to prepare, with none of the dishes we tried taking longer than 30 minutes to get to the table. 
Gobble has a menu that includes many options for those of you who love global cuisine. With Gobble's 15-minute promise, the meals are simple and easy to prepare. 
Recommended Meals to Try from Home Chef and Gobble
You might be surprised by the variety in each week's menu. The list of meals to try is endless. Here are just a few of the meals we recommend trying:
Best Recommended Meal Choices From Home Chef:
15 Min Honey Butter Pork Chop with Parmesan Broccoli
Vegetarian Spinach and Artichoke Risotto with Parmesan and crispy Breadcrumbs
Oven-Ready Creamy Shrimp Arrabbiata Fettuccine Bake
Crusted Ahi Tuna and Lemon Pepper Aioli with Pesto-Parmesan Potatoes & Green Beans
15 Min Coconut Curry Chicken and Rice with Red Peppers and Peanuts
Grill-Ready Tonkatsu Grilled Chicken with Crunchy Asian-Style Slaw
Best Recommended Dinner Recipes From Gobble:
Mediterranean Fattoush Salad with Green Harissa Dressing – vegetarian meal
Chicken Chilaquiles Roja Casserole for Four
Mexican Style Red Meat and Vegetables with Refried Black Beans
Korean Bulgogi Beef Lettuce Cups with Sweet Potato Noodles
Gluten-Free Friendly General Tso's Crispy Cauliflower with Stir-Fry Vegetables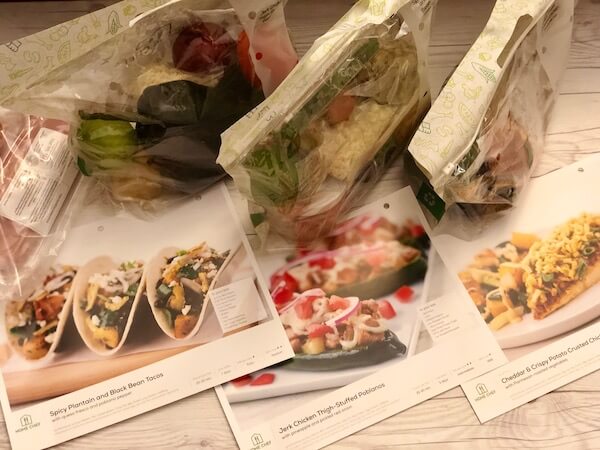 Up To 18 Free Meals - 50% OFF Your First 4 Boxes
Home Chef vs. Gobble – Quality of Ingredients:
With both of these companies, you can rest assured that you will receive ingredients of the highest quality. As Home Chef and Gobble work with many of the same suppliers, their ingredients are no different from those used in top restaurants. 
Home Chef has a trusted network of suppliers for all of its ingredients. The company's goal is to offer seasonal products that are organic whenever possible. Gobble provides local and farm-fresh ingredients by working with local farms, producers, growers, and fishermen.
Home Chef Vs. Gobble – Delivery Box:
Home Chef and Gobble provide shipping packages with sorted, labeled, packaged, and super well-organized ingredients. There is no sorting required with either company. All you need to do is unpack and store your ingredients until you are ready to start cooking!
The box's content is packed with ice packs to ensure they remain at a cool temperature until you arrive home and are ready to unpack your delivery. 
How Eco-Friendly Are Home Chef and Gobble?
Home Chef is making every effort to be as sustainable as possible, and all their packaging is either recyclable or biodegradable. They are also always on the lookout to improve.
The delivery box can be left in your curbside recycling or left to compost. The insulated liner has a recyclable plastic exterior and a biodegradable interior. All small plastic bottles and bags can be recycled with other plastics. Ice packs can be reused or contents emptied in your sink or trash. Recipe cards can, of course, be kept for future use!
Gobble is very aware of the impact a meal delivery company can have on their environment, and they are making every effort to use recyclable boxes and packaging.
The Gobble delivery box can be placed in your curbside recycling bin along with the insulated liner though it is best to check if the liner is better taken to a recycling center. The ice packs can be emptied into the trash, and the outer plastic can be taken to your local recycling center along with any plastic bags used to wrap ingredients. Alternatively, you can place the ice packs in the freezer and reuse them.
Home Chef Vs. Gobble – Ease of Managing Your Online Account
Both Home Chef and Gobble provide easy-to-use websites, and managing your account online is a breeze. Home Chef also has an app, while Gobble's website is mobile optimized. 
Whatever you need to skip a week, change your meal selection, update your account details, subscribe, etc. – It can all be done online in a stress-free and easy way. You can also look at the nutritional information of each meal and future menus. 
Both Gobble and Home Chef offer live customer service that you can reach for any problems or questions you might have regarding your subscription.
Up To 18 Free Meals - 50% OFF Your First 4 Boxes
Home Chef Vs. Gobble Plan Terms:
Both Home Chef and Gobble are available only as a subscription meal kit delivery service, though you have the flexibility to skip a week whenever required. You can also cancel your subscription at any time without a hidden penalty. 
Home Chef Vs. Gobble Add-On Options:
Sometimes you might fancy a little bit extra to your everyday meal, so it is great to know there are add-ons available with both companies! 
On the Home Chef menu, you will find the option of delicious protein packs of meats and seafood, or a mix of both, bread snacks, and sometimes desserts.
Gobble includes a few exciting side add-ons to keep life interesting. Their offerings change from week to week and include soups, salads, breakfast bites, and desserts.
Summary: Home Chef Vs. Gobble comparison – Our Winner is Home Chef!
Our team at the Meal Kit Comparison really enjoyed our experiences with both Home Chef and Gobble. We thought their meals tasted terrific, and we loved the consistently high-quality ingredients used by both companies. 
Gobble places a great deal of importance on convenience with its 15-minute meal promise. They have a menu that is influenced by a lot of different international culinary influences. Home Chef takes classic meals from around the world and makes them their own with flavor-enhancing twists – also focusing on ease of use. 
After looking at all parameters, our team determined the winner – Home Chef.
We felt that the flavor of the Home Chef dishes was better overall. We also thought that their meals were effortless to prepare without any complicated cooking processes. Like Gobble, Home Chef offers many express 15 minutes meal kits, oven-ready and grill-ready meals, designed for people who desire super easy and stress-free meal delivery service.
Our team was impressed with the Home Chef quality of ingredients and thought it was an affordable meal kit option with a great deal of flexibility to suit everyone, ranging from busy singles to couples or families.