We write our honest review on each product, however, we might receive a sales commission to support this website. Prices can vary due to changes in policies. See our full disclosures here.
Martha & Marley Spoon
Meal Kits
Great Whole30 meals selection

Shipping - Free for orders over $45
Growing and changing fast, the meal kit industry has new companies joining all the time. The longer established companies often increase and update their products in order to keep up the pace. No two meal kit companies are the same. They have different offerings, and therefore target different audiences.
When deciding which meal kit service to use, it can be quite confusing as there are so many options to choose from. That's exactly why we are here!
We love to give you all the information you need about the different meal kit delivery companies, compare different meal kits companies, test the recipes and provide an overall picture of the meal kit delivery market in one convenient place.
In this review, we're comparing two very interesting companies in their own right. Blue Apron is one of the largest and longest-serving meal kit companies around, and Martha & Marley Spoon is the meal kit delivery company owned by the queen of the American kitchen, Martha Stewart. Both companies are impressive, with a solid range of high-quality meal options, but they have their differences too.
Let's get started and see how these two players stack up in the battle of the meal kit companies.
How many plans do they offer?
Both Blue Apron and Martha & Marley Spoon provide two plan types.
Martha & Marley Spoon's plans are quite flexible. The options include a 2-people plan, with 2, 3 or 4 dishes each week, and the 3 to 4-people family plan, which includes 2, 3 or 4 dishes each week. Blue Apron's two plans include the 2-people plan, which offers 2 or 3 dishes each week, and the family plan that provides a selection of 2 to 4 dishes each week for 4 people.
What variety of dishes do they provide?
Martha & Marley Spoon is the clear winner in terms of the menu variety. It includes a choice of 10 dishes each week, selected from Martha's collection of 18,000 favorite recipes. The choices include dairy free, low-cal, vegetarian, and children's meals.
In contrast, Blue Apron offers eight dishes each week for the 2-people plan. With the family plan, you have a choice of just 4 dishes each week, including vegetarian and Mediterranean diet style meals.
How tasty are they?
Generally speaking, the dishes that we sampled from Blue Apron and Martha & Marley Spoon were at a very good level.
However, Martha & Marley Spoon are a cut above. Class style home cooking is the overarching theme, with a great amount of vegetable based meals. Another plus is that the meals take only about half and hour to cook, and the recipes are easy to use and follow.
Blue Apron's dishes have a wide range of tastes and styles, from classic cooking to more sophisticated recipes. Some recipes take just half an hour to make, yet others can take much longer.
Here are some Martha & Marley Spoon dishes we sampled: Buffalo Chicken Breast and Creamy Tortellini Casserole
And here are a few Blue Apron meals we tested: Curry Chicken & Vegetables, Roasted Fall Vegetable & Farro Salad or if you prefer a classic styled recipe, there is the Parisian Steak Frites.
How is the quality of the ingredients?
If you're looking for ingredients that are high quality, both Blue Apron and Martha & Marley Spoon have the answer. Sometimes, however, Blue Apron's portion sizes are rather small. In terms of quality of Martha & Marley Spoon, the level we saw is fantastic. Martha & Marley Spoon sources its ingredients from the highest quality suppliers, who provide amazing items, such as Berkshire pork, grass-fed beef, artisanal cheese, American shrimp, and much more.
Blue Apron promises to use meat that is hormone free, farm fresh vegetables that are organic in every possible instance, and seafood that is sourced sustainably.
What about the packaging?
Blue Apron and Martha & Marley Spoon deliveries come in purpose designed, well labeled carton boxes. However that is where the similarity ends. There are important differences that are worth noting.
With Martha & Marley Spoon, each recipe is organized and labeled in a separate paper bag. The contents are properly organized in the box, with refrigerated items packed in a cloth bag with enough ice to keep them cool. The beauty of a delivery from Martha & Marley Spoon is that you won't need to do any sorting. It's all been done already. All you need to do is put the ingredients away in your own fridge and pantry.
In stark contrast, Blue Apron boxes are not sorted and everything comes together unlabeled in the one box. The work of sorting ingredients will fall on you. Spices are packed separately in a small bag, but all other ingredients are unsorted. Refrigerated items are packed at the base of the box with ice to keep them cool outside the fridge. Take note that you'll need to invest some time sorting your Blue Apron delivery, so you might want to take that into account.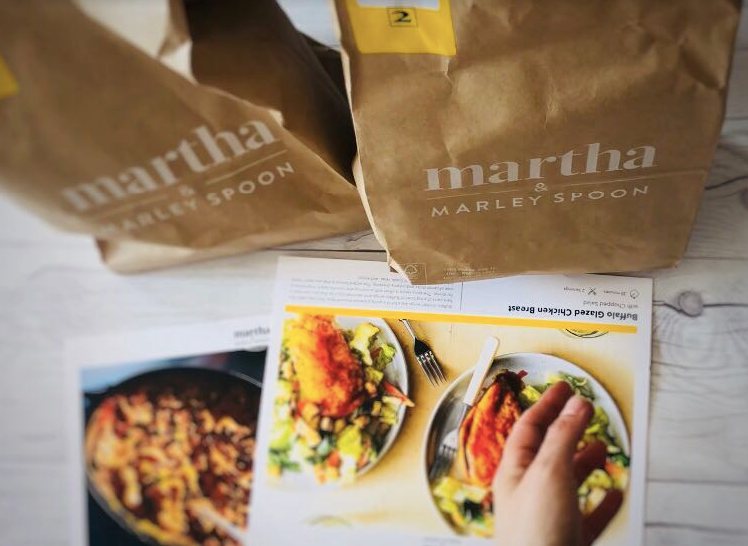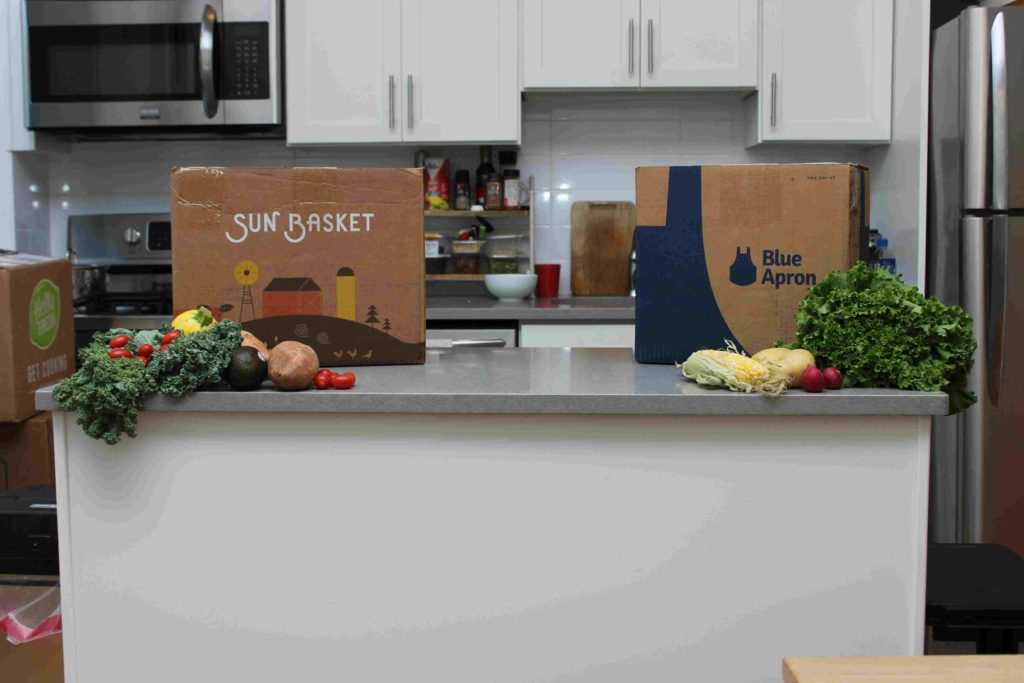 How about the app and website?
Blue Apron and Martha & Marley Spoon's app and website are easy to use and well organized. You can do everything online, including opening an account, choosing a plan and meals, selecting your dining preferences, and updating your payment method, which makes managing your meal kit service really efficient and even enjoyable.
What are the terms & conditions of the plans
Blue Apron and Martha & Marley Spoon both offer a subscription-only service. You can freeze your account and skip weeks if you need to from time to time with both companies. You can also cancel your account with both at any time and with no penalty fees, so there is that extra flexibility available.
What add-ons do they offer?
In terms of add-ons, Martha & Marley Spoon provides a choice of two fiesta boxes, which is a party meal kit containing an appetizer, entree, and dessert for 4 or 8 people.
With Blue Apron, you can choose to add a monthly wine subscription. For $65.99 a month, you can choose six wines, with no extra shipping charge. They also offer recommendations for which wine is best with each dish, which is a nice extra touch. In addition, there is a retail service that has cookware and kitchen items available for purchase with your meal kits.
So, what's the final verdict?
Blue Apron and Martha & Marley Spoon are both very good options.
While Martha & Marley Spoon is characterized by home cooking in the classic style, Blue Apron offers a more varied cuisine, with dishes that are more classically styled and others that are more complex.
Yet, when it comes to a one-on-one competition, after testing meals from both companies, we have to go with Martha & Marley Spoon. The company wins for its amazing tasty dishes, generous portions, and the sheer range of recipes available each week, as well as the high quality ingredients and the convenience of the excellent packaging.
Martha & Marley Spoon is our winner!
Amazing tasty dishes!
Generous portions sizes
Large range of recipes
High quality ingredients