We write our honest review on each product, however, we might receive a sales commission to support this website. Prices can vary due to changes in policies. See our full disclosures here.
In the non-stop growing industry that is the meal kit service industry, new companies are constantly cropping up. With so many companies to choose from, it can be hard to know exactly which one to try, and what company might be the best one for your needs.
Examples of companies that are long standing and well known in the meal kit industry are Hello Fresh and Blue Apron. Although they have much in common, they also have some significant differences, and we are going to explore them here in this meal kits comparison review.
Read on to get the full low-down about Hello Fresh vs. Blue Apron.:
How many plans do Blue Apron and Home Chef offer?
Hello Fresh has a bit more variety in its plans than Blue Apron. With Hello Fresh, you can choose from these three plans:
Classic Plan: 15 dishes each week (2 or 4 people)
Family Plan: 6 dishes each week (4 people)
Veggie Plan: 3 dishes each week (2 or 4 people)
With Blue Apron you have a choice of two plans:
Classic Plan: 2 to 3 dishes each week (2 people)

Family Plan: 2 to 4 dishes each week (4 people)
What dishes do Blue Apron and Home Chef provide?
Both companies offer a rich diversity of dishes in their plans, including poultry, beef, vegetables, pork, and seafood, so you'll never run out of menu options.
HelloFresh has a clear advantage when it comes to recipes on offer, with 17 dishes to choose from each week, including options for family-friendly meals, low calories(named "calories smart" in their menu), vegetarian and even premium-gourmet meals!
In contrast, Blue Apron has a range of 8 dishes in the 2-people Classic Plan and 6 dishes on the Family Plan for 4-people. With Hello Fresh and Blue Apron, there is the option to switch between plans in different weeks.
Is it Good?
After tasting and sampling many different dishes and recipes from both Hello Fresh and Blue Apron, we say with confidence that both companies' meal kits are delicious.
Hello Fresh takes a stronger approach to classic, traditional menus, with flavors and styles that are well known. However Hello Fresh does a good job of keeping it interesting, with a twist in many of its dishes, Hello Fresh provides recipes that are relatively easy to prepare, so you won't feel intimidated even if you are not an experienced cook.
On the other hand, Blue Apron presents a more sophisticated cooking experience with higher level recipes. For foodies and experienced cooks, Blue Apron is a great, challenging option for meal kits.
Is it Fresh?
High-quality ingredients are the name of the game for both Hello Fresh and Blue Apron.
Blue Apron relies on seasonal, farm-fresh produce, and at times, it will be organic. The company claims that it uses only hormone-free meat, and seafood that is sourced sustainably.
On the other hand, Hello Fresh sources its meats domestically and promises to use only poultry that is free of hormones and antibiotics. All pork used by the company is hormone-free certified, and seafood is sourced sustainably.
Take note: Hello Fresh doesn't always provide vegetables that are organic. The company states that they are more focused on helping their customers increase their healthy intake of vegetables and fruit in their everyday meals, rather than focusing on the produce being exclusively organic.
What about the packaging?
For both Hello Fresh and Blue Apron, the carton boxes that arrived with the delivery were well designed and clearly labeled. However, once you open the boxes, it's a completely different story.
With Hello Fresh, you'll get all the ingredients separately bagged and labeled in clear plastic bags. It is very easy to unpack and arrange the contents in your own kitchen. After all, the sorting has already been done by the company!
Not so with Blue Apron. Most ingredients are not labeled and are packed loosely in the box. Only the smaller ingredients, such as spices and condiments, are packed separately to the rest. The job of sorting all the ingredients into their relevant recipes will fall on you. This can take some time, so it might be something to consider when making your meal kit company decision. However, when all is said and done, it's really only a matter of a few extra minutes.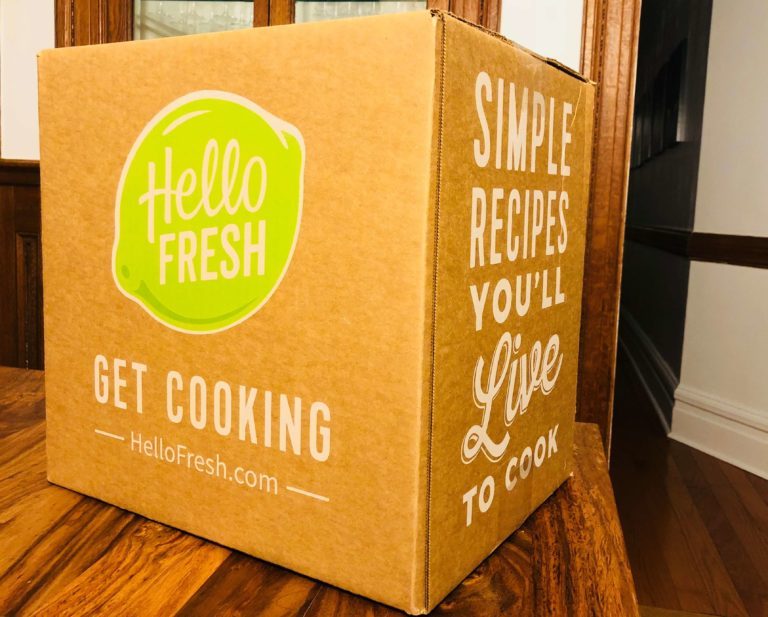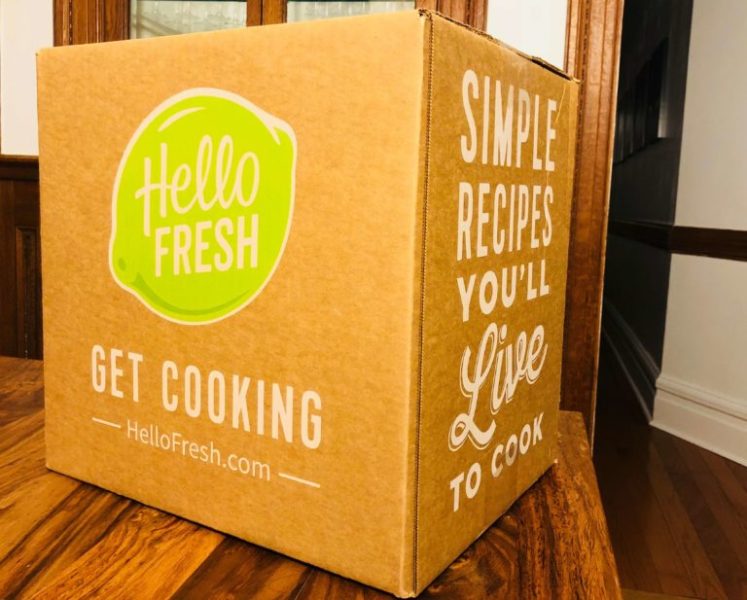 Blue Apron and Hello Fresh App and Website:
Hello Fresh and Blue Apron are commendable in the design and function of their app and website. They are easy to use and well organized. You can do everything you need to manage your account online, such as initial registration, choosing menus and plans, editing your payment methods, and more. The sites also display past orders and future menu choices, with a lot of extra information, like recipes, their ingredients, and nutritional data for many dishes.
Blue Apron and Hello Fresh  terms & conditions:
Hello Fresh and Blue Apron is both subscription-only services, but you can freeze your account in order to skip a week here or there if you need. There is also a fair amount of flexibility in choosing your best delivery day. To cancel your account, with Hello Fresh you can do this online. However, for Blue Apron, you will need to make contact with the customer support department. They do respond quickly and efficiently, which is great.
Blue Apron and Hello Fresh Addons:
Both Hello Fresh and Blue Apron offer similar add on options. For Hello Fresh, the add-ons include: Range of kitchenware, including cookware, knives, storage boxes and more, Wine subscription of 6 wines each month, for $89/month. Red, white or mixed wine plans are available.
For Blue Apron, the add-ons include:
Wine selection, with the ability to choose a wine to match the meal, which is great fun!
Retail cookware –  wide range of cooking supplies to choose from.
So, what's the final verdict?
Want to upgrade your dinners? You won't go wrong with Hello Fresh or Blue Apron. Both companies are targeting a slightly different audience, though. Our personal favorite, Hello Fresh, is great for people who like traditional cooking with a new twist, but easy-to-prepare recipes at the same time. Blue Apron, however, is perfect for foodies and those who want a new challenge in the kitchen.
In this battle, the standout winner is Hello Fresh. Our team loved the way their dishes tasted, and this put Hello Fresh just that little bit ahead. We also loved that the recipes are not too long or complex, so it is an easy, fun meal kit option.
Hello Fresh is our winner!
Delicious recipes and fabulous classic home cooking!
Simple to prepare in just 30 minutes
Offers great value for money
Generous portion sizes in most instances