We write our honest review on each product, however, we might receive a sales commission to support this website. Prices can vary due to changes in policies. See our full disclosures here.
At the Meal Kit Comparison, we are big fans of meal kits. They are an incredibly convenient solution that removes the stress and frustration from weekly mealtimes. It honestly doesn't matter what your situation or dietary preferences are. You might be part of a family, a busy singleton or a time-poor couple. 
Regardless of your situation, we can guarantee that there is a meal delivery service out there for you! Our goal at the Meal Kit Comparison is to help you find the perfect meal kit service to meet all your nutritional needs and to do it in a way that is enjoyable, fulfilling and always delicious! 
One of the things we do is to provide in-depth company comparisons so you can better assess what two companies have to offer.
The two companies we are looking at today, Hello Fresh and Gobble, offer quite different services, so let's get started on this comparison!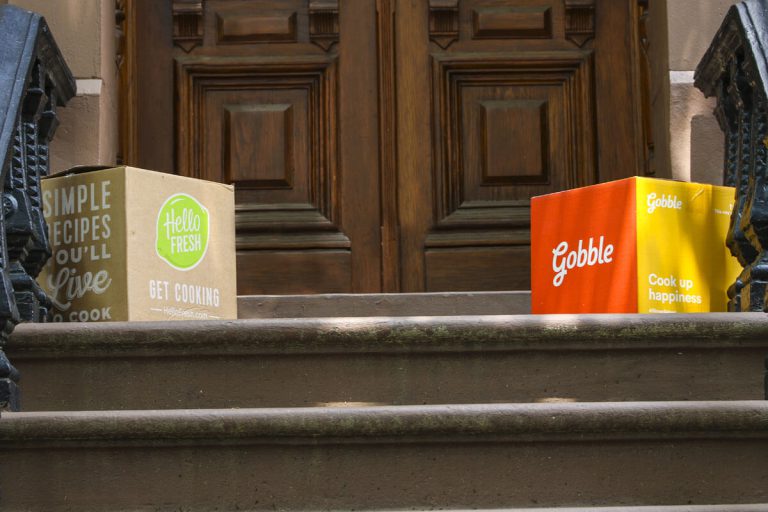 Hello Fresh vs Gobble – introduction
Hello Fresh is a name that everyone recognizes. It is currently the largest and most popular meal kit company in the US. It specializes in providing a menu that is filled with healthy and delicious meals every week. Their recipes are generally easy to follow with no meal ever being too complicated. Hello Fresh is fabulous for those wanting to embrace a healthier diet without any of the stress. 
Gobble has not been around as long as Hello Fresh, but they are getting a great name for providing a convenient service with meals that are quick and easy to prepare. Gobble's main focus is taking the stress out of mealtimes, and they make the very big promise that none of the meals will take longer than 15 minutes to prepare! So that they can achieve this, all their ingredients arrive fully prepared and, in some cases, pre-cooked and vacuum packed. 
Hello Fresh vs Gobble delivery area
At present, Hello Fresh delivers to all states within the continental USA. At this time, they do not deliver to Hawaii or Alaska, but this is something they are working on. Gobble tries to deliver to as many states as possible within the continental USA, and they ask you to check your zip code on their website to see if delivery is possible to your area. 
Hello Fresh vs Gobble Available plans
Hello Fresh offers its customers 3 different plans, while Gobble has the choice of 2 plans along with their Lunch Box plan. 
Hello Fresh:
Classic meat and veggies Plan: 2 to 4 dishes every week for 2 or 4 people
Family Plan: 2 to 4 dishes every week for 4 people
Veggie Plan: 2 to 3 dishes every week for 2 or 4 people
low calories plan – 2 to 3 dishes every week for 2 or 4 people, designed for healthy weight loss goals.
Gobble:
2-person plan: 3 dishes every week for 2 people
4-person plan: 3 dishes every week for 4 people
Lunch-Box plan: 3 'grab-and-go' lunches which can be prepared in under 2 minutes. 
The Menu offered by Hello Fresh and Gobble
You will be pleased with the variety offered by Hello Fresh with a choice of 17 recipes every week to choose from. These recipes are allocated to specific plans. The Classic Plan includes all 17 recipes, the Family Plan has a choice of 9 recipes, and the Veggie Plan has a choice of 3 recipes. Considering that this menu changes every week, you will find that there is a lot of variety available with Hello Fresh. 
The weekly changing Gobble menu includes 10 dishes every week, and within those dishes, you will find choices that are suitable for kid-friendly, dairy-free, low-carb meals and many more. The menu is arranged into four different categories depending on the main protein source for each meal.  You can select dishes from any of the categories which are 'From the Range', 'From the Ranch', 'From the Sea' and 'From the Earth'. 
Hello Fresh and Gobble popular meals
Here are some of the popular Hello Fresh menu items:
Frijoles Fresca bowls
Pork and veggie bibimbap
Heirloom tomato flatbreads
One-pot beef and black-bean chili
Here are some of the popular Gobble menu items:
Pan-roasted chicken fricassee with leeks and mushrooms
Pan-roasted top sirloin with potato wedges and sautéed spinach
Baja shrimp bowl with black beans & quinoa
Almond-crusted barramundi with arugula and tomato olive relish
At the Meal Kits Comparison, our favorite part of the job is trying a range of dishes from every company that we review. We are happy to report that we loved our experiences with both Hello Fresh and Gobble!
We found that Hello Fresh had a menu filled with reassuringly well-known 'comfort-food' and classic dishes. None of their dishes was too complicated, and we found that all the dishes that we tried could be completed within 30 minutes. We love the fresh, healthy ingredients used in the Hello Fresh meal kits and the generous portions of fresh produce!
Gobble is obviously all about convenience with their amazing 15-minute kit to table promise.  Just because things are quick to prepare though, does not mean they are skimping on quality, and we found that their ingredients were fresh and appealing, and we loved the fact that ingredients were fully prepared. Gobble is all about quick and easy meal preparation. 
Hello Fresh and Gobble quality of ingredients:
There are very few meal kit companies that do not use the best available ingredients and Hello Fresh, and Gobble was no exception. We thought that the quality of ingredients used by both companies was without fault. 
Hello Fresh is passionate about ensuring that their customers get healthy portions of fresh produce. While their produce is not always organic, Hello Fresh states that this is not their priority as they simply want to focus on providing beautiful fresh produce and to help their customers eat in a healthy way. Their meat is domestically sourced, and like their poultry, it is antibiotic and hormone-free. Any pork used is hormone-free, and seafood is always sustainably sourced. 
Gobble also loves providing healthy quality ingredients to their customers. They are very proud of their supplier network and only use trusted suppliers. In keeping with their 15-minute preparation promise, Gobble delivers many of its meal kit ingredients partially cooked, and vacuum packed, which is another thing that ensures your ingredients arrive at your door in the best condition possible. 
Hello Fresh vs Gobble delivery box:
The great thing about receiving a delivery from either Hello Fresh or Gobble is that they arrive in sturdy boxes with contents that have been beautifully organized. All ingredients have been individually packaged and labeled, so there is no guesswork required and no sorting of ingredients. It is just a matter of unpacking your meal kit ingredients and storing them until you are ready to use them. Both companies also provide gel packs with their deliveries, packed closely to the proteins so that everything arrives in optimum condition. 
As there are increasing concerns about our environment and what steps we need to take to protect it, many people like to know about the packaging of meal kit delivery companies. Many people want to ensure that these items are as environmentally friendly as possible. A good thing to keep in mind about using meal kit delivery services is that as your ingredients are pre-portioned, you are also substantially reducing your food waste. 
Hello Fresh advises that you can recycle each component of their delivery. The delivery box can be folded and included with curbside recycling along with the honeycomb paperboard liners. Any summer insulating liners can be taken to a nearby recycling center, while you will need to trash their winter liners. Gel packs can be emptied into the trash while the plastic packaging can be recycled.  Separators and the actual meal kit sleeves are 100% curbside friendly.
Gobble has also designed boxes and packaging that are predominately recyclable. The delivery box can be placed in your curbside recycling, and they advise you to check if the insulated liner is better left in curbside recycling or taken to your nearest recycling center. The gel ice packs can be emptied or kept and reused. If you do decide to empty them, empty the contents into your trash and take the plastic casing along with any plastic bags to your nearest recycling center.  
Hello Fresh vs Gobble – Managing your subscription
As meal kit companies are predominantly accessed by their customers online, they generally have very easy-to-use websites. Both Hello Fresh and Gobble have websites that are easy to navigate, which makes managing your account a completely stress-free process. Hello Fresh also has an app if you prefer. Gobble does not have an app, though its website has been mobile optimized. 
What are the benefits of using Hello Fresh and Gobble?
Meal kit delivery services have been designed to make your life easier. They achieve this by taking the headache out of your weekly meal planning. Instead of writing recipes, trying to think of new recipes, grocery shopping and doing hours of food preparation, meal kit companies do all of this for you. There are so many benefits to using companies like Hello Fresh and Gobble.  Companies such as these ensure you are receiving the best possible ingredients that have been perfectly portioned and paired with simple to follow recipes. Hello Fresh has meal kits that include generous servings of beautiful fresh produce which means that you will be eating better than ever before. Gobble is fantastic when it comes to saving time with meal kits that are all about quick and easy meal preparation. 
Hello Fresh vs Gobble- Our bottom Line
Our team of tasting experts enjoyed their experiences with Hello Fresh and Gobble. We thought both companies were quite different, offering fabulous services that undoubtedly would be ideal for different people. We loved the quick and easy 15-minute promise made by Gobble, and we thought their menu offered a lot of interesting choices from around the world.  However, in this instance, our preferred company was Hello Fresh. Although we loved both companies, we simply preferred the flavors from Hello Fresh, and we loved their focus on providing generous servings of fresh produce. We also thought they made meal preparation quick and easy and were a very affordable option for those who have little time, but who still want to enjoy healthy home-cooked meals. 
Hello Fresh is our winner!
Delicious recipes and fabulous classic home cooking!
Simple to prepare in just 30 minutes
Offers great value for money
Generous portion sizes in most instances