We write our honest review on each product, however, we might receive a sales commission to support this website. Prices can vary due to changes in policies. See our full disclosures here.
At a Glance…
Get delicious meals based on the freshest ingredients, including  fish, meats, vegetables and fruits – all delivered straight to you in an insulated, convenient box, by Blue Apron. 
Brief Overview
Did you know that Blue Apron was the first meal kit company in the US?
It all began in 2012, and it was the start of a new and rapidly-growing trend to hit the market in the USA. Over time, as the industry expanded, Blue Apron has maintained its position as a leader, and is still one of the largest meal kit companies in America.
You get professional-style meals, including all ingredients pre-arranged in portions, delivered straight to you at home. What's more, you'll enjoy restaurant-level, quality recipes that you can prepare easily in your kitchen. Blue Apron totally revamps your cooking fun in the kitchen, and also makes preparing your weekly meals so much simpler. When you use Blue Apron, you can stop thinking about planning meals and shopping for groceries. It's all available in one complete and convenient service, which is also great value for money, as it doesn't cost more than if you were doing all the shopping and planning yourself.
Who does Blue Apron cater to?
Blue Apron is great for people who love cooking – and eating!
The recipes are often interesting, and usually have a great twist, which makes for some really indulgent and delicious meals. There's a wide range of dishes available; some are quicker and easier to cook, and others take longer. The available recipes all take between 20 minutes and an hour to prepare.
What plans does Blue Apron offer?
With Blue Apron, you can choose from two plan options:
Classic Plan: 2-people plan with 2 or 3 dishes each week. Vegetarian meal kits and recipes available.
Family Plan: 4-people plan with 2-4 dishes each week
How to get started with Blue Apron
It is really easy to get started with Blue Apron. First, register your account on the website or app. If you're just starting out as a new customer, Blue Apron offers some terrific coupons. Once you've signed up for an account, select your plan and recipes from the menu. There are a range of meal options, including vegetarian, kids' meals, 'quick & easy' and others.
Then, just wait for your delivery to arrive at your door. Your order will arrive in a clearly marked box with all the recipes and ingredients included, and with step-by-step instructions about how to prepare them. Simply follow the recipe, cook your meal, and sit down at the table to enjoy!
Blue Apron has complete flexibility that lets you jump a week if you need to. You can also switch recipes in advance, which gives you even more flexibility to plan your meals for the weeks ahead. In terms of canceling your account, this can be done whenever you want, with no penalties. So you can enjoy the Blue Apron service with no expensive long-term commitments.
What kind of meals does Blue Apron offer?
With Blue Apron, you have a choice of 8 meals each week for the 2-people plan, and 4 meals each week for the 4-people plan. All the recipes are created by professional chefs,so you can get restaurant-level meals in the comfort of home. Blue Apron loves to make the dining experience wonderful, with new tastes and flavors to explore all the time.
Blue Apron also has an impressive range in terms of cuisine, including burgers, tacos, classic European dishes, like quiche, pasta and flat breads, and Asian dishes, like stir fries and noodles. The menu at Blue Apron is quite original and innovative, with great partnerships with renowned food gurus and chefs who put their individual style into the recipes.
Also, Blue Apron at times offers dishes based on famous or popular diet trends, like the Mediterranean diet or Whole 30. There are also kids' dishes, vegetarian and a range of 'quick & easy' options, which is a fantastic option in our opinion – one of the best advantages of a meal kit delivery service is having amazing recipes on hand that you can cook in no time whatsoever!
Generally speaking, Blue Apron's cuisine is more sophisticated than average, demanding more skilled cooking methods and interesting seasonings to spice things up a little. In this way, Blue Apron is a great meal kit service for people who are more experienced in the kitchen, and those who want to shake up their cooking repertoire.
Check out these dishes from Blue Apron that we already put to the test.
What's inside the Blue Apron box?
Your Blue Apron delivery includes all the ingredients for your chosen recipes packed and arranged in a clearly labeled box. Items that require refrigeration are packed at the base of the box with enough ice to keep them cool for a longer period of time. With Blue Apron, you will find that you'll need to do some sorting of the delivery when it arrives, as it will not be pre-sorted for you. However, it only takes a few minutes to sort. Blue Apron does pack the smaller ingredients into separate, individual bags so that is a good advantage.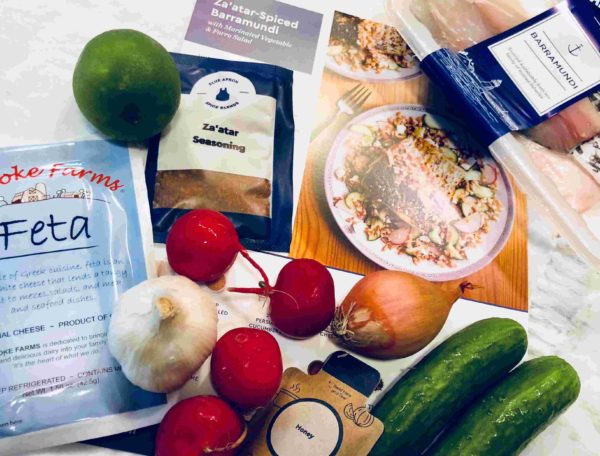 How is the quality of Blue Apron ingredients?
When we put Blue Apron's meal kits to the test, our expert team were very happy with the results – time and time again. The ingredients were of a consistently high quality, and always extremely fresh. The meats included in the kit are hormone free, the seafood is sourced sustainably, vegetables and fruits are farm fresh and locally sourced, and the seasonings and condiments are handcrafted artisan specialities.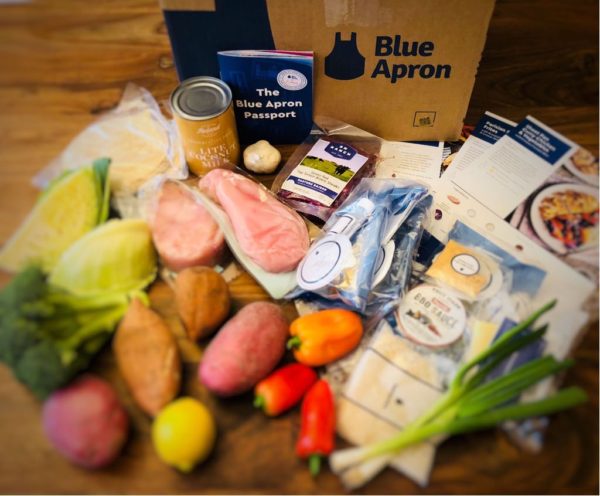 How is Blue Apron's website & app?
Both the app and website of Blue Apron are user friendly with a handy layout. Everything you need to do to manage your account can be done online, including signing up, choosing your dining preferences, selecting weekly meals, and updating your payment details. You can alter your weekly recipe choices up to one month in advance. The website also includes a range of extra information about the dishes, including past and future recipes, ingredients for each recipe and nutritional data.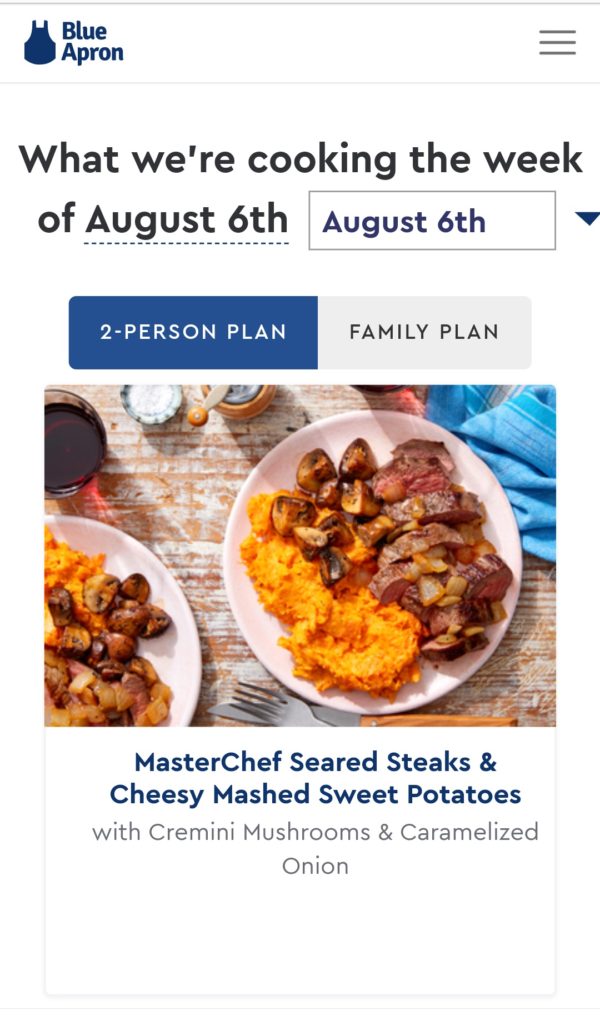 The Final Verdict…
For those who truly love cooking, but want to spice things up in the kitchen, or if you are looking to save costs on your weekly menu and seriously cut down on the time spent in the grocery store, then we recommend Blue Apron for you!
Meal kits from Blue Apron are amazingly high quality, based on incredibly fresh fish, meats and vegetables, direct to you at home in a secure, cool box. The company partners with local suppliers who use sustainable farming methods to create premium, restaurant quality meals and truly delicious results. The defining feature of Blue Apron is its total fine dining approach.